Soccer wins two of three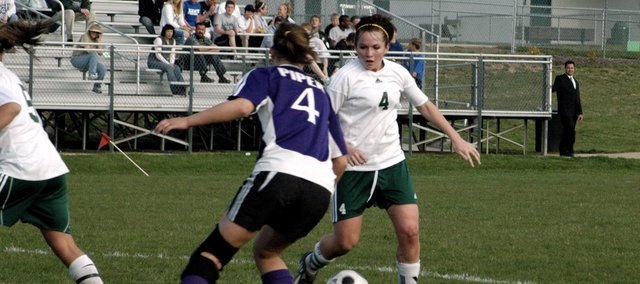 Sure Danielle Price and Carly Stanley were their usual selves, each scoring a goal in De Soto's 2-0 win over Piper Thursday at De Soto, but coach Darren Erpelding saw a little more team-oriented play.
Just to name a few, the De Soto coach yelled out words of encouragement to Tami Crow as she passed a ball out of the right corner to set up a Wildcat shot, and to Danielle Dowdy and Cassie Zoller, two freshmen who helped stop a Piper scoring opportunity late in the second half.
"I think we did some things that we actually haven't been doing tonight," Erpelding said. "We hit the ball into the corner, made some nice crosses and used our width. And we dropped the ball back and played wide and our forwards had some good runs. We did some good things tonight.
"I thought we played really a more complete game tonight than we've played in a while. We didn't rely so much on Danielle and Carly. Everybody was involved tonight."
In the first half, Stanley scored on an assist from Price and, facing a stingy Piper defense, that was De Soto's only goal of the half. In the second half, De Soto continued to charge the ball from the wings, and Price scored with 14 minutes to play on a ball across the middle that first bounced off Ashley Williams, then Stanley and finally Price.
De Soto's offense attacked all game long and put up 28 shots in the match, 15 of them on goal. But Piper's goalie made several nice saves to keep the score close.
"Defensively they do a very good job," Erpelding said of Piper. "They are a little bit down this year, but they are a lot better team than I thought they would be. They are a very good team."
De Soto senior Ashley Williams put up three shots, including one on goal in the second half that missed just wide left. Williams played aggressively, and on one play maybe a little too aggressively as she chased after a ball near the left side of the goalkeeper box and plowed into the Piper goalie who made the save.
"She was just on full speed," Erpelding said of his senior. "She was trying to get to the ball, and I think she was closer than she actually thought she was, and the goalie made a nice play."
De Soto goalkeeper Jamie Zvirgzdins didn't face near the attack that Piper's goalie did. Piper managed just four shots in the contest.
"Our defense did a great job of shutting them down, and Jamie was ready for anything," Erpelding said. "We did a good job in the back."
De Soto took on Blue Valley on the road last Friday and lost, 7-1. Stanley kicked in De Soto's lone goal. The Wildcats played Topeka-Seaman Monday and tied 2-2. Stanley scored both of De Soto's goals.
The Wildcats continued their busy week Tuesday at Maranatha and won 10-0. The game was called at the half.
Next up for the Wildcats is a road contest Thursday at Mill Valley.