Track struggles in Wichita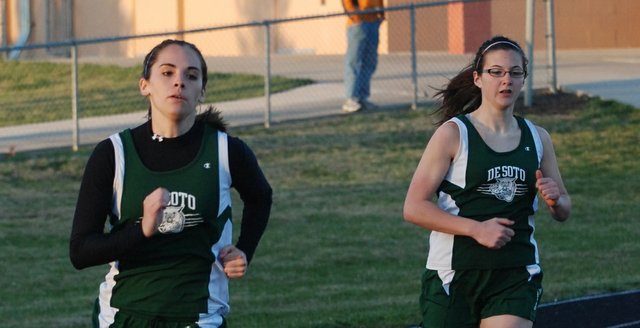 If the De Soto track season was a 4x400-meter relay, the Wildcats exploded out of the blocks for the first lap of 2009.
Friday in Wichita, however—during what would appear to be the second leg of the race—the squad was unable to hit its paces.
Coach Brian Dinkel said he was disappointed with the effort his team produced in the Shocker Pre-State Invitational—a meet he said would indicate how his squad stacked up against state championship-caliber competition.
"We went down there and just didn't seem focused," he said. "We came out, went through the motions. Nobody really competed poorly it just seemed like everybody was a little flat."
Dinkel added that had his team competed the way it had at the Baldwin Invitational, it would have won quite a few events.
"Friday morning seemed kind of ho-hum," he said. "You can blame that on the coaching staff. We should have pumped them up a little bit for it. We assumed that knowing it was a big meet that they'd show up."
While the overall feeling taken from the event was disappointment, Dinkel was quick to add that he was proud of the way some of his athletes performed.
"Jeff Bowen is one guy that stands out to me," Dinkel said. "He went out and set a (personal record) in the 300-meter hurdles. He ran a 42 flat. He really ran his tail off."
Bowen's personal record was good enough to earn him second-place in the event.
Despite not being fully satisfied with the results on Friday, Dinkel said he was still excited about the team's performance the day before at the Mill Valley Invitational.
"The Mill Valley meet turned out pretty good," he said. "We had a few kids step up and get personal records. It was a good tournament to give the younger kids an opportunity to compete, and they came out and competed well. Most of the coaches were happy with that meet."
Among those successful were Aaron Nutterfield and Brianna Fairbanks, who recorded personal bests in the high jump and triple jump.
The team's next chance to regain its stride is Friday and Saturday at the Kansas Relays.
"There's competition from all over the Midwest that will be there this weekend," Dinkel said. "So they better be fired up for that meet."