Five Questions: Fully Booked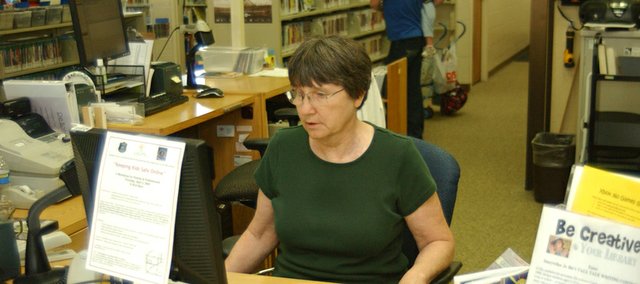 Q: What feedback has the library received about the December remodel?
A: It's working great. The Feng Shui arrangement is excellent. Everybody who comes in remarks how much more room we have.
Q: One of the improvements was the addition of four adult computers in an adult space. Has that been popular?
A: Since the remodel and adding the computers, we've seen a pretty good increase in the daytime use for adult computers.
Q: Last summer, it was announced the De Soto Library had the biggest percentage increase in traffic for July of any Johnson County Library District site. It that trend continuing?
A: We're still trending up. Our traffic in March 2009 was up 19.5 percent from March 2008. That's 4,200 visitors in March 2009 compared to 3,515 in March 2008,
Q: Do you ever say shsssh?
A: I don't think I've said that. The kids know when they cross my line. We have had noise issues because we have such a confined space and we have a large open space for all age group. We just got the Yacker Tracker that goes from green to yellow to red with the noise level. It allows them (teens) to self monitor their noise level.
Q: Will the county open the library on Monday?
A: With the county budget, the chances of expanding hours are slime.
More like this story