Presentation Night showcases Social Studies projects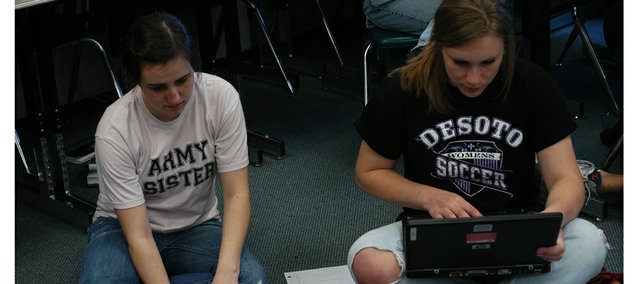 Ashley Sweeney's desire to be a cardiologist drove her to research free market healthcare for her senior social studies project.
Ashley's project and those of fellow seniors, juniors and honor freshman will be on display April 22 at De Soto High School's first social studies presentation night.
Adrianne Lehrman, social studies teacher, said the science fair type presentation night will feature projects for the public to evaluate.
The senior's projects surround controversial issues of the day. Student will have to back up their cases with court cases and facts.
Ashley's project argues against free market healthcare.
"My thesis is Americans for free choice in medicine should not advocate for free healthcare because it does not exist in the U.S. due to the fact that there are government regulations and the fact that in free market healthcare societies too many people would be left without insurance," she said.
Seniors began their projects at the beginning of the school year in English courses by writing persuasion papers or multi-genre projects such as ads, letters to the editor or pamphlets, said Mike Murphy, social science specialist.
Then in the spring, seniors began the political science or government class portions of the project, said Ashley.
Seniors were required to perform at least five hours of community service relating to their projects. Students could elect to perform as many as 20 hours of service.
Murphy said a lot of students try to do community service at research facilities.
"They are getting their foot in the door," he said of students service. "They see some of the work down in the trenches."
Murphy said the civic participation was something thing he hoped the students want to partake in.
Ashley said she talked to a lot of people in the healthcare field about her project.
On presentation night, seniors will either give formal or informal presentations on their projects. Formal presentations feature the student speaking for 10 minutes in a classroom. Informal presentations will be set up with posters and information for those walking through the fair.
The junior's projects center on what America means to them, using three time periods to support the theme.
Juniors Sophia Young, Rachel Hanson and Wendy Behee chose individualism for their project.
"In America, you can be your own person," Rachel said.
Sophia said the group was looking at different topics that show individualism, such as music and the roaring 20s and modern-day influences.
"We're trying to find not just facts, but interesting things," Rachel said.
The freshman honor students in integrated world history will present projects on making changes in the world.
Murphy said in the past, seniors were the only students to work on projects of this nature.
The classes would schedule a meeting room for a few weeks to present their projects to parents or other classes, Murphy said.
"This year we decided to go to a presentation night," he said. "The school is embracing the idea, and we'll be more open to show the community."
Sweeney said she thought community members would come look at the projects.
"I think people should come," she said. "I found a lot of the topics were really interesting and informative. A lot of them break the cultural beliefs when you look at research."
Those in attendance are encouraged to interact with students about their projects, as well as provide feedback. Electronic surveys will be available in the commons to collect opinions on the experience.
The public is invited to the presentation night at 6:30 April 22 at the De Soto High School commons.