Bouncing back
Cats win three in a row after loss at Hayden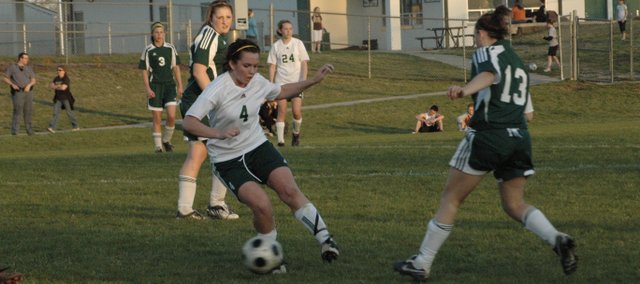 This was the effort De Soto soccer coach Darren Erpelding was looking for last week.
Two days after losing in disappointing fashion on the road at Topeka-Hayden, 8-0, the Wildcats bounced back with an 8-0 win over Basehor-Linwood last Wednesday night at De Soto.
"The girls did a good job," Erpelding said. "We were focused. We had excitement, all of those things in the game. I don't know if it was what time of day it was, but we didn't see even half of that on Monday. If we came out with that kind of energy and excitement on Monday, then we don't play the way we did."
After the blowout loss to Hayden, some of the De Soto players, including Danielle Price talked to the team. Price scored five goals on Wednesday night.
"After the game we talked about movement when you don't have the ball," Price said. "And tonight we really moved without the ball, and the girls carried that through. We just had a great game tonight."
De Soto led 5-0 at the half and controlled the game throughout. Carly Stanley kicked in the other three goals for De Soto. De Soto put up 38 total shots in the contest. Basehor attempted only one shot in the match.
"I was happy with our defense," Erpelding said. "They didn't have any attack. I was really pleased with our defense right there. We kind of switched up and made some adjustments to kind of counteract the other team's speed. We wanted to get used to it tonight so when we play the Blue Valleys and those teams that have a lot of speed, we're more used to what we're going to play."
Price's fifth and final goal of the night came with 1:33 to play in the match. When a player scores four goals it is often called the "golden sombrero," but Price wasn't sure about what to call her five goals. Her coach knew what to call it, however.
"I've always called five "silver toad," Erpelding said. "It's just kind of a baseball thing we always did. We just kind of called it silver toad for whatever reason."
Nancy Marquez tallied her first assist of the year, and Ashley Williams scored the first points of her four-year career, and goalkeeper Jamie Zvirgzdins had her first shutout of the season.
"You could tell that we were obviously the better team," Erpelding said. "We were the more athletic team, the more skilled team. I kind of knew that might be the case coming in."
De Soto played Thursday at Tonganoxie and won, 5-0, in a rain-shortened match. Price scored three goals, and Stanley scored the other two. Erpelding said the squad looked a little weary early playing its third game in a week, but De Soto still put up 16 shots in the half.
De Soto played Ottawa Tuesday night and won, 9-1. Next up for De Soto (4-2) is a home match with Piper on Thursday.
More like this story