Tennis takes first-place at Highland-Park Quad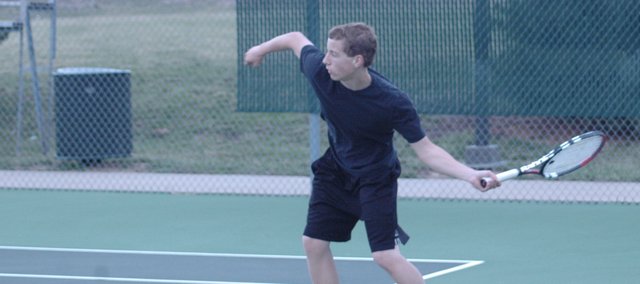 Unseasonably cold temperatures didn't slow the Wildcats tennis team much Monday when they played in the Highland Park Quad in Topeka.
On the day, the Wildcats cruised through the competition and won 11-of-12 matches overall and took first-place as a team.
"We played well," De Soto tennis coach Michael Sullivan said. "It's not the toughest competition that we're going to face this year, but all the guys played well. There were some tough elements out there. It was cold and windy kind of like it was last week, but they played pretty good."
In singles play, the No. 1 and No. 2 seeds played separately, and so Andrew Konetzni played in the top spot for De Soto and won his bracket easily. Senior Matt Edwards played at No. 2 for the Wildcats and also cruised through the competition in his bracket and took first also.
"The six matches they played, they combined to lose only four games total," Sullivan said. "Singles-wise they didn't have the best competition. We'll have some other matches where they'll get tougher competition.
"When you've got two talented singles players like that there's going to be times where they're not going to get that competition, especially when one of them is going to have to play in the No.2 position. That's just kind of the way the schedule works sometimes."
De Soto's No. 1 doubles team of Brendon Hudson and Trevor Elmer went 2-1 on the day and took second-place. They won their first two matches before losing to Topeka-West, 8-4. Sullivan said he was pleased with Hudson and Elmer's performance overall.
"For Topeka West, their two best players were playing in that doubles spot," Sullivan said. "So it was a pretty good match and it was a good experience for them (Hudson and Elmer)."
De Soto's No. 2 doubles team of Mitch Childers and Joe Dvorak went 3-0 at the tournament and won the quad. They started the day a a little slow, falling behind in their first match against Topeka High, 5-2, before bouncing back to win 8-7. Childers and Dvorak then beat Topeka West and Highland Park, 8-4, to win the quad.
"They played really well today," Sullivan said. "I was real happy with how they played because they didn't play their best last week. I was pretty proud to seem them rebound with how they played last week compared to this week. So it was nice to see them gain a little confidence there."
Junction City was supposed to be play at the tournament but didn't make the trip because of the cold. Topeka High took its place instead.
Next up for the No. 5-ranked Wildcats is the Paola Round Robin Tournament on Thursday. While Paola is the host school, the tournament will be at Gardner.