Soccer falls to Hayden, 8-0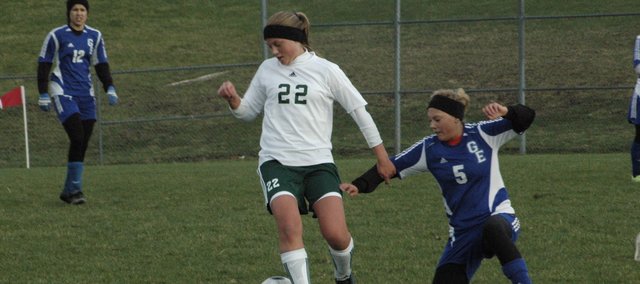 De Soto soccer coach Darren Erpelding took his team back to Topeka-Hayden, his high school alma mater, Monday night.
After the game, Erpelding called De Soto's 8-0 loss, "one of the most embarrassing moments of my life."
Erpelding said he had seen Hayden play earlier in the year and knew it was a fast team. But when he saw the squad on the pitch against his own Wildcats, Hayden was even faster than what he had originally thought.
Erpelding said Hayden changed formations from when he had scouted them earlier in the year, and that spelled trouble for De Soto.
Though the change in strategy caused numerous problems for De Soto, Erpelding said it was his team's lack of effort that was really bothersome.
"We might as well not even gotten off the bus," he said. "They were in attack mode the whole time. Everything that could have went wrong for us went wrong."
Hayden controlled the game from the outset and put up 26 shots against De Soto goalkeeper Jamie Zvirgzdins, 23 of which were shots on goal. The score could have been even more lopsided had Zvirgzdins not recorded 15 saves.
De Soto, meanwhile, put up just eight shots in the game, six of those coming from Carly Stanley and Danielle Price. Erpelding conceded that Hayden was the better team, but not as much as the final score might indicate.
"Are they the better team? Yes," Erpelding said. "Are they eight goals better than us? No. They're probably three goals better than us."
Erpelding said he didn't scream or holler at his team afterwards. He just pointed out the mistakes the squad had made.
Some of the De Soto players including Danielle Price and Amber Laudick also spoke to the team following the match. Erpelding said having the players address the team, could be beneficial after a difficult loss like the Hayden game.
"When it comes from me, they can get it but when it comes from them, it can really sometimes help us come around," Erpelding said.
Erpelding said that though he would like to forget about Monday night's drubbing, he informed the team that it would be watching the ugly game film during practice this week.
"If I have to watch it, they have to watch it," Erpelding said. "They're going to relive it."
De Soto's home contest against Basehor-Linwood last Thursday was cancelled because of weather. The game was rescheduled for Wednesday at De Soto. Results from the game were unavailable at press time.
Next up for the Wildcats is a road contest Thursday at Tonganoxie.