Anderson wins re-election as De Soto mayor
McDaniel, Walker to join city council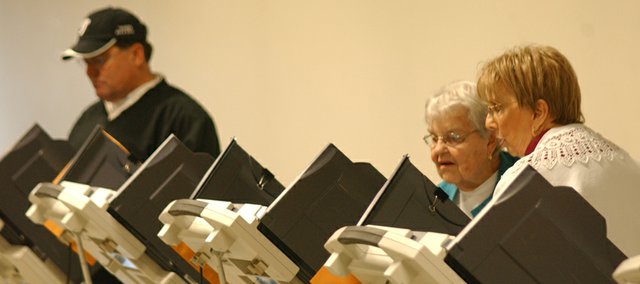 Dave Anderson held off a challenge Tuesday from Randy Johnson to win his third term as mayor of De Soto.
Results released Tuesday by the Johnson County Election Office showed Anderson prevailed in the race by a count of 356 to 304. The results are unofficial until a canvas late this week by Johnson County commissioners.
"I'm satisfied," Anderson said. "We're on the right track. I think that's what people said."
Tops on his agenda for the next term will be the effort to form a wholesale water district with nearby water districts to share in the upgrade and operation of the Sunflower water treatment plant, Anderson said.
He would also continue to work for the revitalization of downtown neighborhoods, Anderson said.
"That's a money issue," he said. "We pushed that back several times. With the economy, it could be a few more years."
Ronnie McDaniel, who was motivated to run because of his opposition to a possible water-purchase agreement with the city of Olathe and who made water the centerpiece of his campaign, was the top finished in the six-man race for two city council seats. Also elected to a seat on the council was Rick Walker.
"The people of De Soto have spoken," McDaniel said. "I didn't spend any money for advertising. I just spoke to the people of this community.
"I want communication from the council and the city to the people of this community."
McDaniel said he would like the city start a quarterly newsletter to communicate with residents.
McDaniel said he too would press to see the creation of a wholesale water district. He said he viewed the Sunflower water treatment plant built by the federal government as an asset to be shared by many in the area.
With news of his election, Walker said once again he would not bring an agenda to the city council. During the campaign, he did advocate the formation of a cooperative to start a new grocery store in De Soto.
Last week, Anderson said he was confident if there was a good turnout. But he won in an election in which only about 21 percent of the city's registered voters participated.