Anderson leads in mayoral race after advance votes counted
Randy Johnson ahead in tight three-way
USD

232 Position 4 race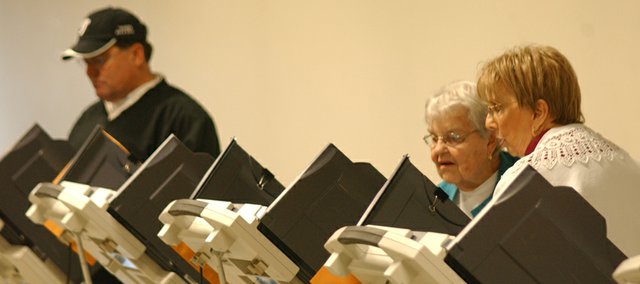 Incumbent Dave Anderson took an early lead over Randy Johnson with the release of advance voting in the contest for De Soto mayor. The results released at 7:30 p.m., showed Anderson with 59 votes to Johnson's 51.
Ronnie McDaniel was the early leader in the six-man race for two De Soto City Council positions with 53 votes. Advance voting results in the race were: Bob Garrett, 39; Rick Walker, 33; Doug Pickert, 32; Kevin Honomichl, 17; and John Krudwig, 16. The top-two finishers will be sworn in to the city council April 16.
Randy Johnson collected the most advanced votes in a three-way race for USD 232 Position 4 race with 164. He was followed b Roger Templin with 145 and Margaret Johnson with 132.
In the USD Position 5 race, incumbent Janine Gracy outpolled Kevin Straub 269 to 163 in advance voting, and with 213 votes incumbent Larry Meyer led challengers Tammy Thomas (170) and Tim Needham (41) in Position 6.