Softball looking to top Dogs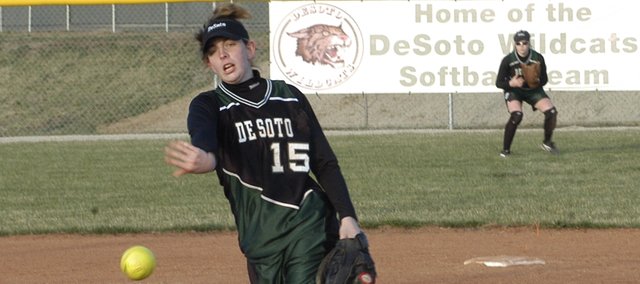 When the De Soto Wildcats softball teams takes the field against Baldwin on Thursday, coach Melissa Wible hopes the squad can do something it hasn't during her tenure as coach: beat Baldwin.
"It'd be very nice to compete against Baldwin and win," Wible said. "Usually they are one of our first games, so trying to get out all of the jitters and things like that is hard. But I'm hoping to see our kids compete and win the game."
Wible has two pitchers who will likely throw a lot of innings this season in Katie Williams and Hannah Jokisch.
"I'm really looking for Katie to start the season like she finished the season last year," Wible said. "So we're looking for great things out of Katie. Hopefully she'll go two games, if not we've got Hannah Jokisch to back her up."
While Wible will look for her two top pitchers to keep runners off base, offensively she thinks her team will be a little more potent this year at the plate.
"I'm looking for a lot of them to step up this year," Wible said. "A lot of them are juniors. I have one senior and I'm looking for them to hit with more power this year. And I have a deeper lineup. So hopefully instead of relying on a few bats, I'm hoping the whole lineup will come through. That's exciting for a coach."
Wible said this year the team wanted to improve on last year's seven-win season.
"I think the kids goals and my goal is to win games this year," she said. "I think our main goal is to win each year and improve. We won seven games last year and we really want to improve that each year by winning more games. I even hear from them. They're not there just to have fun anymore. They're there to win, and they want to show how good they are and show that De Soto softball is a very respectable team."
De Soto's season opener against St. James on Tuesday night was cancelled because the field was too wet. The doubleheader was rescheduled for 4:30 p.m. Wednesday at the 3&2 fields. Results of the game were unavailable at press time.
More like this story