DHS

, city of DeSoto cooperate in math education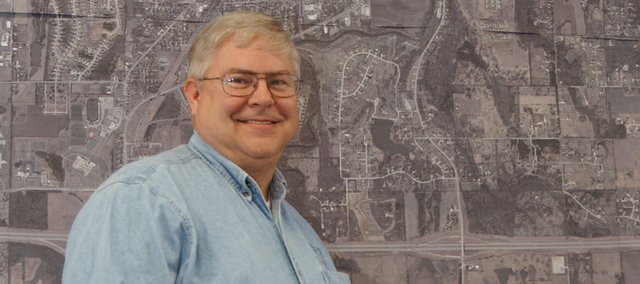 Geometry students at De Soto High School will put their studies to the test beginning next week when they begin a project with the city of De Soto.
The students will apply concepts from their geometry studies to create a museum through the city's building permit application, basic design and estimation processes.
Joel Thaemert, DHS geometry teacher, said the project came about as the school was looking for a way to make geometry classes more applicable to the real world.
"We saw an article in Edutopia Magazine about the application of math and science," he said.
Thaemert said the idea was to just start with creating museums but evolved to include guest speakers, such as architects and city officials.
Students will use math applications such as square foot calculations, cost per square foot, building setback calculations, permit costs and an overall not-to-exceed budget of $10 million.
Teams of three students will chose a lot in K Ten Commerce Park to build their museums, Thaemert said. The museums can be for any topic the students are interested in, like guitar hero, he said.
The class begins the projects next week and will work on them until the end of the school year.
"This applies to everything they have learned so far," Thaemert said. "It gives them a purpose for learning what they learn."
Steve Chick Sr., building inspector for De Soto, will approve or deny building plans submitted for the permit process. In Chick's slide presentation to the classes, he will inform them of their responsibilities for submitting.
"The teams will be required to calculate all of the permit information and basic site and design requirements to build their museum, prior to submitting for 'permitting,'" the slide states. "Following the project completion and grading a 'Certificate of Occupancy' will be issued, prior to the team's class presentation of its project."
Nine classes and about 150 students will participate in the cooperative project between the city and high school.
Chick said the city was 100 percent behind the project.
"We like those kinds of things, like when we do cooperative projects with the district," he said. "It's been fun putting together. We'll spend two days coming up doing presentations to the classes."
Chick said students would apply other learning tools beside geometry, such as, compromising on plans and common sense.
"There are tables to follow and directions to make," he said. "They have a $10 million budget. Some things they can do will quickly blow the budget. They will have to use some common sense."
Students will make perspective drawing of the museums and scaled versions of floor plans and parking lot configurations, Thaemert said.
"They have already brainstormed and they are all excited about where they are going with it already," he said.
Chick said the project also gives the students an opportunity to learn about career paths.
"We get to show them a little bit of something that goes on in the construction environment," he said. "We can talk about career opportunities that associate with a series of projects like architects, engineers, city planner and inspectors. There is a value in working with those kids and giving them some outside feedback."
giving them some outside feedback."
More like this story