Two polling places to be open in De Soto for Tuesday's election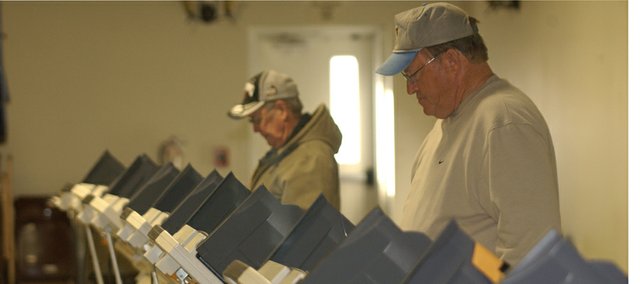 Voting locations for Tuesday's De Soto city/USD 232 elections will be the same as those in last month's primary.
Sarah Horn, election systems manager for the Johnson County Election Office, said all voters living within the city of De Soto will vote at De Soto VFW 6654, 33725 W. 84th St. Those rural De Soto residents living in Lexington Township will vote at the De Soto United Methodist Church, 8760 Kill Creek Rd.
Both polling sites will be open from 7 a.m. to 7 p.m. Tuesday, Horn said.
"There's 148 polling places countywide," she said. "We've done a little consolidation trying to save the taxpayer dollars since turnout tends to be less in the spring."
With a smaller turnout expected, the only time there could be lines at the two De Soto polling sites is when they first open in the morning, Horn said.
Those who can't get to the polls Tuesday or are in a hurry to vote can vote in advance at the Election Office, 2101 E. Kansas City Road in Olathe. It will be open for voters from 9 a.m. to 5 p.m. Thursday and Friday, 9 a.m. to 3 pm. Saturday, and 9 a.m. to noon Monday.
Horn urged those sending mail-in ballots to post them as soon as possible. To be counted, they must be returned to the election office by 7 p.m. Tuesday.
"To be safe, I would give it at least the whole weekend to get here," she said. "If I was mailing my ballot, I would not wait until Monday because if it gets here on Wednesday, it's too late."
Voters within the city will decide three races Tuesday. They will elect either incumbent Dave Anderson or Randy Johnson as mayor of De Soto for the next four year. They will also elect two city council members to four-year terms from a slate of John Krudwig, Bob Garrett, Kevin Honomichl, Ron McDaniel, Doug Pickert and Rick Walker. All six will be on the same ballot with the top-two finishers elected.
De Soto and most Lexington Township voters will vote for three USD 232 board positions. In Position 4, incumbent Randy Johnson is being challenged by Margaret Johnson (no relation) and Roger Templin. Kevin Straub is running against incumbent Janine Gracy in Position 5, and incumbent Larry Meyer faces Tammy Thomas and Tim Needham for the Position 6 seat.
On the ballot at both De Soto polling sites will be the contest for the Johnson County Community College Board of Trustees. Voters will select four candidates from a slate of 10, which includes Jerry Cook, Robert Drummond, Benjamin Hodge, Peter Jouras Jr., John Kanaga, Miguel Morales, John Papazafiropoulos, Melody Rayl, Stephanie Sharp and David Weeks.
Those residents of Lexington Township living west of Evening Star Road will vote in the Eudora USD 491 board elections at the De Soto United Methodist Church.