Nature draws backpacking De Soto photographer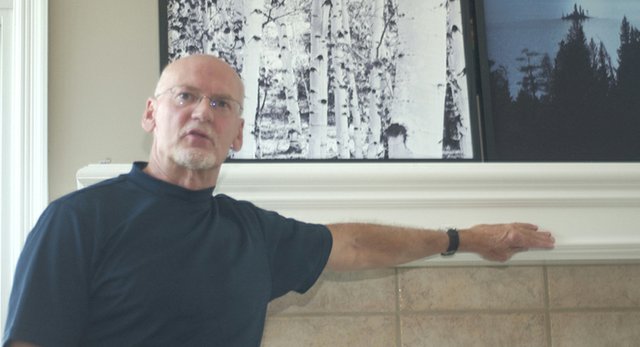 Jim Walker of De Soto often indulges two passions when searching for a photograph to get down on canvas.
That's right, canvas. Generally associated with painting, Walker prints his photographs on canvas using a method know as giclee, which is French for little spray. It is an ink jet printing method that allows photographs to be printed on such surfaces as canvas and fine art paper.
"I was a photographer for 45 years," he said. "When I retired two years ago, I decided to take it from a hobby to a business.
"I looked around at my fellow artists. I wanted to do something to distinguish myself. Giclee is not new, but it's not ordinarily done for photographers."
The printers are too complex and expensive for individuals to own, so Walker sends electronic images to San Antonio, Texas, for printing, he said.
The technique produces a print that is noticeably different from traditional photographic prints on glossy or semi-gloss paper, Walker said.
"A lot of people say it almost looks as though someone took a brush and painted the image on the canvas," he said. "It's that clear."
Area residents can view Walker's work at the Bleu Tomato, where it is currently on display through the end of the month. Walker will also be represented at De Soto Art Council's second annual art show open to the public from 4 to 8 p.m. Friday and 10 a.m. to 6 p.m. Saturday at the barn at Zimmerman's Kill Creek Farm, 9210 Kill Creek Rd.
Walker's piece, a black and white shot of birch trees, was taken on one of his many outings to scenic or remote areas.
"I have no interest in doing portraits," he said. "This is what draws me. I've always done a lot of backpacking."
Since retiring after a career in the U.S. Army and telecommunications two years ago, he and his wife, Karen, have traveled extensively as he combines his passion for photography with his love of the outdoors. Walker said he had backpacked or canoed with camera in Canada, in Glacier, Rocky Mountain and Yellowstone national parks, Arkansas, Maine and locations in Nebraska, Missouri and Kansas, Walker said.
"I've made many trips round De Soto along the Kaw River Valley," he said. "I've canoed the Kaw River a couple of times."
Although his technique may be different, photographs using gilcee still need the traditional skill set to be successful, Walker said.
"It still has to be well-framed, interesting and with good resolution whether you do it with gilcee or high resolution photography. It doesn't make any difference," he said.
In addition to his larger gilcee works, Walker also sells paper prints and cards. He and other local artists will have work available at the art show.
Walker said he finds customers through shows and word of mouth. His work can be ordered from his Internet site kawvalleyphotography.com.
He was happy to learn De Soto was home to two other local art photographers, Carrie Dvorak and Rose Burgweger, Walker said. He has found their experience especially helpful in marketing his work.
"They've been a big help advising me so I don't make the same mistakes they have," he said.
Dvorak said the work of all three photographers can be viewed at Buttonwood Art Space, 3013 Main St. in downtown Kansas City, Mo.
"Our work is all a little bit different," she said. "I think Jim has some very nice pieces. He's been all over the U.S. and has some good shots of Kansas scenery too."