De Soto
USD

232 enrollment grows by 6 percent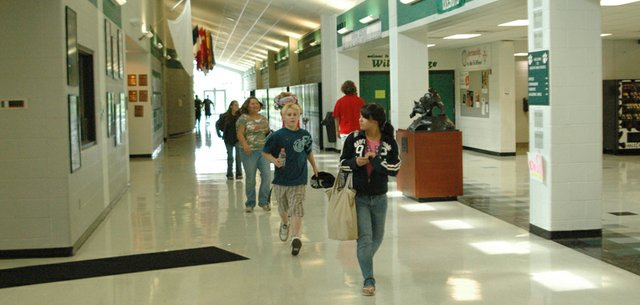 De Soto USD 232 officials weren't surprised when official enrollment numbers were calculated Tuesday to send on to the Kansas Department of Education.
The number of full-time equivalent students, a number that counts pre-kindergarten and kindergarten as half a student, in the district's 12 attendance centers was 6,051. The state will now audit the number to determine the district enrollment for the purpose of per-pupil funding.
The official number equated to an FTE increase of 348 students from the 2007-2008 school year, or a 6 percent increase. The district was expecting an FTE increase of 350 students, district planning and operations director Jack Deyoe said.
The numbers reveal USD 232 continues to be a young district. The number of kindergarten and first-, second- and third-graders outnumber those students in the four high school grades 2,274 to 1,594.
Just as last year's graduating class was the last grade level in the district to total less than 300 students, this year's senior class is the last to have fewer than 400 students. Every grade level from the fourth grade to kindergarten has more than 500 students, with the largest being the third-grade class of 576 FTE students.
"I thought we might see the first class with 600 students with this year's kindergarten, but it didn't happen," Deyoe said.
The actual headcount of students in district schools is 6,307 or 6,426 when pre-kindergarten students are included.
Tuesday's official numbers were somewhat lower than those reported in August, soon after school started. Again, Deyoe predicted at that time enrollment would decline slightly before the official Sept. 20 reporting date.
Enrollment numbers may have held few surprises but the do confirm space concerns the district is addressing, or attempting to address, on two fronts. With 609 students, Clear Creek Elementary is the largest elementary school in the district.
Just last week, the USD Board of Education approved a construction contract to expand Clear Creek and Starside elementary with the use of from the district's capital outlay fund. With 464 students, Starside - the district's smallest elementary - is on the list because special needs classroom unique to that school are eating up space.
The other way the district hopes to address space needs is through the $75 million bond issue district voters will be asked to approve Nov. 4. It will build a new elementary school and expand Mill Valley High School's enrollment capacity of 1,000 to 1,400 and that of De Soto High School from 750 to 1,000.
Tuesday's official numbers show that Mill Valley FTE is 986 while De Soto has 611 students. Growth from students already in the district would outstrip the capacity of both schools by 2011.
Deyoe said with all of Monticello Trails Middle School's 199 eight-graders and about half of Mill Creek Middle School's 130 eighth-graders headed to Mill Valley next year to replace 202 graduating seniors, its enrollment will easily exceed capacity next August.
More like this story