De Soto blanks Eudora, falls to Gardner on road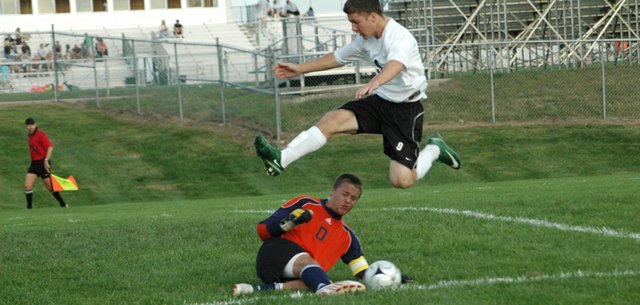 Eudora hung tough with De Soto for the first 35 minutes of the game, but after that it was all De Soto.
Already leading by one late in the first half, De Soto's speedy offense took advantage of a slower Eudora team and kicked in two more goals to close out the half with a three-point lead. De Soto then scored two more goals in the second half and cruised to a 5-0 win over Eudora last Thursday at home.
Jordan Riffel scored two goals for the Wildcats, the first coming at the 30:04 mark off a corner kick. On the play Paul Oswald leaped and tried to bounce the ball off his head but missed. But Riffel was right there to punch it in.
Alex Henning scored the second goal of the half for the Wildcats, that one coming after De Soto got Eudora's goalkeeper out of position and dove for the ball to pick it up but missed, giving Henning an easy shot. And Riffle booted in the third goal with just less than a minute to go in the half.
But despite the win and shutout, De Soto soccer coach Darren Erpelding wasn't exactly pleased with his team's performance.
"In all honesty, the guys came out flat," Erpelding said. "We knew we were probably going to have a good chance to win this game, and they kind of played down to the level of Eudora and didn't play the way we needed to play and had a lack of intensity and lack of focus.
"Honestly, tonight we just kind of looked like we went through the motions. And that's bad to say. That's not a knock on Eudora by any means. I don't mean it to sound like that but we did. We went through the motions."
In the second half, Octavio Villa scored four minutes in and Henning put in another with 17 minutes to play. Erpelding said he thought Eudora began to wear down and that allowed the Wildcats to pounce late.
"We were able to get some separation on them, find some cracks and slip through on them. That was key," Erpelding said.
The game marked another shutout for the Wildcats this year. They have only given up one goal this season.
"We don't want to jinx it," Erpelding said. "It's something we pride ourselves on. We learned last year that we had to play from the back.
"We moved one of our best players Duncan (Henderson) to the back and by playing him in the back, we're so smart and with our speed back there we can build from the back up and then the opposing team starts getting frustrated and doing stupid things and all of the sudden things open up for us."
Henning said that despite his team's undefeated record, there was still room for improvement.
"We need to get better in practice," Henning said. "We're a little slow right now. We need to get a little more conditioning in and pick it up in practice. We sometimes come out flat and we think it's because we had a weak practice yesterday. We need to pick up the pace a little bit."
The Wildcats played at Gardner-Edgerton Tuesday night and lost, 4-1 Gardner scored three goals in the first half to take control of the game early.
"It kind of snowballed on us," Erpelding said.
Brett Hevel scored the only goal for the Wildcats. De Soto plays Thursday at Baldwin.