Wildcats fall late to Cardinals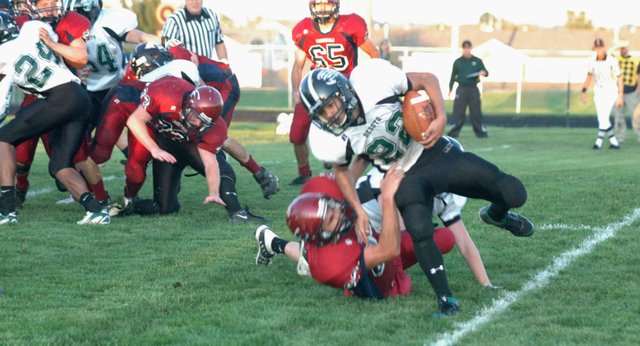 De Soto's triple offensive threat of Logan Clark, running back Dylan Burford and wideout Jamel Townsend were problems all night for Eudora. Townsend had six catches for 116 yards and one touchdown. Burford had three touchdowns, including a 78-yard punt return and an 84-yard kickoff return. But in the end, the Wildcats couldn't outlast Eudora and lost, 33-36, Monday night at Laws Field.
"We got some weapons," De Soto coach Brad Scott said. "The problem is we just can't keep giving people opportunities. You can't fumble the ball. You can't turn the ball over and have stupid penalties.
"We've got some issues we have to get corrected, but I think in the long run we'll be a good football team."
De Soto (0-2) was in control of the game and had the ball in the red zone but a fumble and Eudora recovery gave the Cardinals hope. Eudora then marched down the field and drove inside De Soto's 10-yard line. On fourth and one, Eudora's Bryan Kindle kicked a 24-yard field goal with one second to play to give Eudora the win.
"It was an excellent high school football game," Scott said. "You feel sorry that somebody's got to lose it, but I told our kids we didn't deserve to win that game. And I think the worst thing that could have happened to us is that we win that and then think you can get away with some of the stuff we got away with and win a ball game."
Read Thursday's De Soto Explorer for the full story.