Moving day arrives for De Soto medical clinic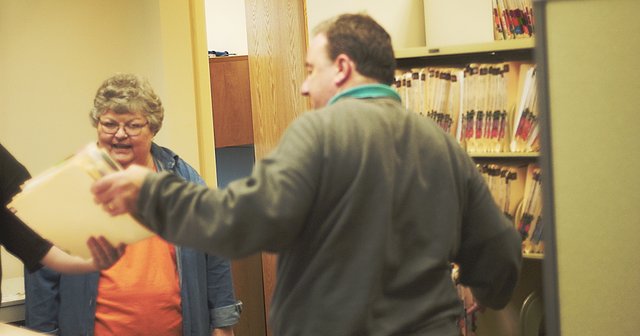 The De Soto Family Clinic will close at noon Thursday before reopening Monday at a new location with a new name.
The clinic's practice administrator Kathleen McInnis said the clinic was ready to make its long anticipated move to its new location in The Commons on Commerce Drive, where its name will be Shawnee Mission Primary Care.
"We're excited," McInnis said. "It's pretty cool if I say so myself. Everything's so fresh and so clear.
"It's a new location, new technology - the phones and computers are brand new, state-of-the-art. But the good news is we have the same two providers, Dr. Maribeth Orr and physician's assistant Jim Boyes."
The parent Mid-American Physicians office in Shawnee will be open to clinic patients who need to see a doctor Friday and Saturday, McInnis said.
Another bonus of the move is reconnecting with Lori Murdock's pharmacy, which moved last month from it longtime site beside the clinic on Lexington Avenue to the same building in The Commons the clinic now occupies.
The clinic's move leaves another empty commercial property on Lexington Avenue. Calls to Hospital Corporation of America, the building's owner, were referred to the public relations director at Overland Park Regional Medical Center, who said the corporation had no plans for the building.
Meanwhile, there has been movement on another empty Lexington Avenue building. Jeff Kieffer, senor vice president for Enterprise Bank in Overland Park, said that bank now owned the former Morse Market or Apple Mart and was eager to move it.
"We don't want to own it very long," he said. "We're getting ready to work with a couple of buyers who have circled, and if those don't work out we're going to list the property shortly."
Although the bank and some interested buyers were far apart on price, he expected some activity within a couple of months, Kieffer said.