De Soto High School drum majors important in year of transition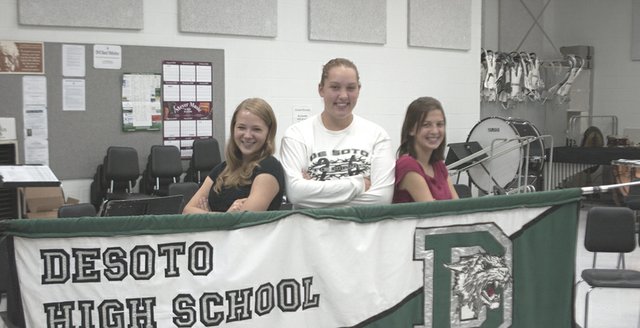 One the first day of rehearsal for the De Soto High School Marching Wildcats, new band director Freeman found that teenagers' attentions spans can lapse no matter how dedicated the youngsters are.
As he fought to bring the group back to attention, his drum majors - junior Becca Roberts and seniors Jenna Hodges and Hana Lindbloom - shared with him the method departed band director Justin Love used to regain focus.
"There's this thing Justin Love did to get their attention of clapping three times and the band yells 'Pride.'" Freeman said. "I used it, and it works. I didn't know anything about it until the first rehearsal when they said, 'Just clap three times.'"
Always important to bands in setting an example of work ethic and excellence, his drum majors are doubly important in a year of transition.
"They keep me from messing up," he said. "They're helping me get to know traditions and things that worked before."
Freeman knows what is being asked of his drum majors. As a senior in high school, he was a drum major in David Hodges' first year as band director at that school.
"It's a small world," he said. "His niece, Jenna, is a drum major my first year here."
Although Roberts experienced other band directors at Starside and Lexington Trails Middle School, Hodges, Lindbloom and other seniors in the band had Love since they were in the fifth-grade. Nonetheless, Lindbloom, who aspires to be a high school band director, sees Freeman's arrival as an opportunity.
"Anything I do with music is going to help me," she said. "I learned from Mr. Love since I was in the fifth grade. Now, I'm learning from Mr. Freeman."
As a second year drum major, Lindbloom brings an added link to the band's traditions and achievement. She said the drum majors share with Freeman things that happened with the band in the past and, if asked, information about individual band members.
"This year, Jenna and I are 13-year class members," she said. "Most of these kids, we've known forever."
Every year, the band's three drum majors take on different roles. As a second year drum major, Lindbloom is the taskmaster.
"I would be the more feared one," she said. "If you mess up on grades, in the hallway or in the band, you're going to hear from me. The whole band knows I know just about everything - like I can see everywhere."
Although Hodges said she didn't know her role, Lindbloom said her fellow senior had carved out a niche.
"You're the momma," she said. "You really are.
"Once I talk to them, they can go to Jenna and she'll be nice."
Hodges is also caretaker who helps band members with details, Lindbloom said.
Roberts, they agreed, was still finding her role.
"I know last year, all I did was watch the two senior drum majors," Lindbloom said. "Definitely, the junior drum major has the hardest job, developing leadership with seniors and being younger than them."
One of the drum majors' tasks during performances is providing the hand signals that keeps the far-flung band on beat. On Friday, Hodges and Roberts got their first opportunity to step into the spotlight by climbing a stepladder to lead the band. Although they battled nerves before climbing the steps, they said things went fine once the music started.
That may be because Hodges and Roberts have musical family backgrounds. In addition to her high school band director uncle, Hodges' grandmother is De Soto High School vocal music director Mary Etta Copeland.
By becoming a drum major at the high school, Roberts is following in the footsteps of her two older sisters. They were part of the marching band's tradition that includes earning the top mark of 1s at marching band festivals.
Freeman and his band members spoke of that tradition in terms of the expectations of the whole band and not pressure.
"It doesn't have to do with the three of us," Lindbloom said. "When you have a band that wants to get 1s, it makes it easier for us and
Mr. Freeman."
Festivals are fun and the band wanted to excel, but Hodges said that wasn't its primary goal.
"I think we're pretty good by any rating," she said. "We rehearse to be as good as we can, not to get a 1."
More like this story