Cats opener spoiled by Blazers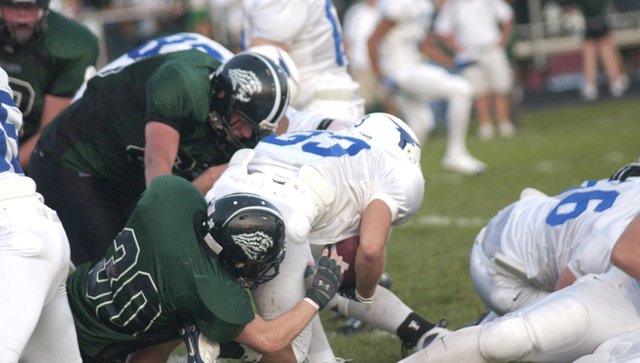 It wasn't a pretty start for De Soto's football team Friday night.
A formidable Gardner squad spoiled the home opener, spreading out the scoring and winning by a final score of 39-0.
De Soto managed to hang around in the first quarter, and it took a trick play on an end-around pass from Gardner receiver Isaac Mallory to fellow wideout Justice Berry to get on the board after one fruitless possession.
"We had really shut them down early," coach Brad Scott said.
Then, an injury to starting quarterback Logan Clark with about 10 minutes to play in the second quarter - an undisclosed injury to his left, non-throwing shoulder - landed not only the quarterback but also the starting outside linebacker on the bench without pads on.
"When your offense isn't doing anything because your starting quarterback is on the sideline, your defense just has to stay out there and eventually they are going to wear you down," Scott said. "I think that was a big part of what happened.
"When we were fresh and we had everybody in there, I thought we matched up with them well."
For the Wildcats, Dylan Burford led all rushers with 52 yards on 18 carries. Josh Fisher followed with 26 yards on five attempts.
Before he was forced out of the game, Clark was 2 for 3 for 50 yards, which included a 48 yard bomb to Jamel Townsend in the first quarter that got the ball down to the Gardner 35-yard line.
Read more in next Thursday's edition of The De Soto Explorer.