Youthful tennis squad gains confidence in opener at Hayden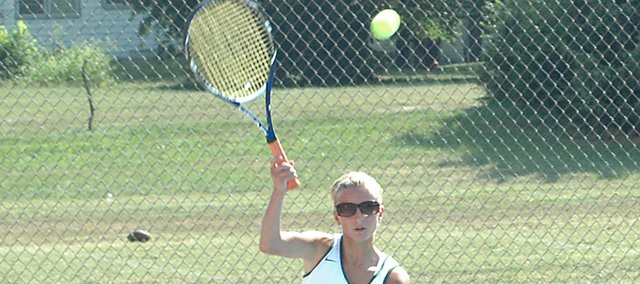 The De Soto girls tennis squad's season got underway last Thursday at Hayden High School in Topeka, and head coach Michael Sullivan, all things considered, was pleased by the play of his squad.
"For the first go-round, I think we did fine," he said. "We've got so many new kids on the team that you never know how everybody is going to do."
The play of the singles players, in particular was impressive, and although the combined record of the doubles teams may not reflect it, they made progress as well.
Senior Kara Doherty, the No. 1 singles player for the Wildcats led the way on the day, amassing a 2-1 record. Doherty defeated Carli Gunnels, of Hiawatha, 8-3 and Amana Allen, of Gardner, 8-0.
She then fell to Chelsi Haefele, of Hayden, 8-1. However, that defeat may not seem so discouraging as Haefele was a top-10 finisher at 4A state last year.
"Kara played really well. Her first two matches she played really strong in. And it was nice to see her get that chance at singles," Sullivan said. "She just ran into a really, really tough player, just a whole other level of player."
Emily Bilger, a sophomore playing No. 2 singles for the Wildcats, opened her year by going 2-1 as well. Just like Doherty, it was her final match of the day, against a Hayden opponent when she incurred her first lost of the season.
Bilger began the day by shutting out Summer Gernon of Hiawatha, 8-0, and then kept the momentum going against Chrissy Barrerro of Gardner in an 8-2 one-sided victory. An 8-1 loss to Mackenzie LaCount followed, but her overall performance had Sullivan pumped up.
"She played well, and I knew she had it in her because she did well last year at JV. She played very strong, won two good matches," Sullivan said. "Especially her first varsity tournament, and being a young kid, to get a couple of wins the first day helps build the confidence."
The Gardner opponent she beat - Barrerro - is more experienced than Bilger, Sullivan said, but that didn't seem to matter Thursday.
In doubles action, things didn't go quite as smoothly for De Soto, but Sullivan saw some encouraging signs.
No. 1 doubles teammates Suzie Gulley and Hana Lindbloom went 1-2, shutting out Hiawatha before losing to Gardner and Hayden, 8-2 and 8-1, respectively.
"They haven't played a lot together, and they played fine," he said. "They haven't peaked or anything, but they got an extremely tough opponent (in Gardner). It's one of those things, I'll play them in singles this year too, just to see how it goes."
Gardner's team featured a 5A state qualifier from a year ago, teamed with a foreign exchange student who Sullivan thought was from Macedonia who may have been the best player on the court Thursday.
The performance of No. 2 doubles players Bre Miller and Hanna Tramel, a couple of sophomores, also encouraged Sullivan, although the results may not reflect it. The tandem lost its first two matches, 8-5 before losing, 8-0, in the third match. However, Sullivan said the team got better as the day went on.
"The second two teams (Gardner and Hayden) they played were much better teams," Sullivan said. "Even though they didn't win any matches, they're getting used to each other and played a little bit better as the day progressed."
Next up for the Wildcats is a 3:30 p.m. dual Thursday, Sept. 4 against Mill Valley at home.
More like this story