Equestrian facility to bring rural lifestyle to disabled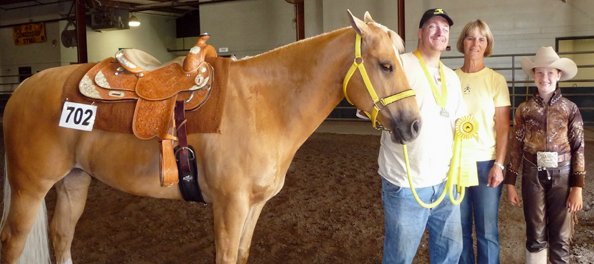 At first glance, it doesn't seem as though anything special could occur on the plot about five miles south of Eudora. It is a mostly nondescript expanse of 40 acres framed by trees and gravel roads. There is a home, a small creek, a pond and the land has been graded.
It makes sense that this is the spot where Community Living Opportunities would choose to build Midnight Farms, as CLO sees possibilities for positive outcomes where others do not.
CLO has been serving men, women and children with disabilities in Douglas and Johnson counties for more than 30 years by placing them in family-style homes rather than institutions.
"In 1977, people with disabilities were kept in institutions," said Ivo Ivanov, director of marketing and fundraising for CLO. "CLO was just a group of parents who decide they didn't want their kids to grow up that way and wanted their kids to function in the community and have a normal life."
The group contacted professors in Kansas University's Human Development and Family Life department and created a model of group homes within communities. It was later decided that group homes were just smaller institutions, and in the 1990s CLO reduced the number of people in the homes to about four people to make them more family-like.
CEO Dr. Michael Strouse then realized there were people who had children with special needs who valued a rural life style. CLO had nothing to offer those people. Midnight Farms will address that need. It will contain four homes on a working farm where certified families will live with children and adults who are disabled.
Other projects on the property - which will be built in phases - will be a 22,000-square-foot lodge and indoor equestrian facility, an amphitheater, trails for horse-drawn carriage rides, petting zoo, greenhouse, pumpkin patch and fish pond.
CLO broke ground on the project in late August. With a finish date of April 2009, the lodge is set to be the first new structure on the property completed.
Midnight Farms Equestrian Program Director Colleen Baker has an extensive background in showing horses and is certified by the North American Riding for the Handicapped Association.
Baker said that although people with disabilities would live and work at Midnight Farms, the facilities and equestrian program would be all inclusive.
"We want people with and without learning disabilities to be included in the facility. We're going to offer the lodge to community groups as a meeting place," she said.
Ivanov said bringing in outside groups to the farm would further instill in the people with disabilities a sense of belonging to a community.
"Anybody feels the best when they have a sense of value, and for people with disabilities that's the toughest thing," he said. "For them to feel valuable in society is fantastic."
Though no one person will take credit for coming up with the concept of Midnight Farms, the person who came up with the name is Allison Frizell, whose husband, Trip, is on the CLO board of directors.
Frizell had always loved the poem "Midnight Farm" by Reese Lindberg.
"There's a sense of tranquility at night on a farm that doesn't exist anywhere else and that ambience radiates from the poem," Ivanov said.
The Frizells have a 23-year-old son, Tom, who has autism and is nonverbal.
They knew early on they wanted something more than the typical group home for him.
"When our son was a small child, shortly after we knew what his diagnosis was, it became our dream to try to establish a non-urban living model for adults with disability because that was the lifestyle we wanted for our son," Allison Frizell said.
They wanted an environment of meaningful, purposeful work that also allowed Tom to be out of harm's way in terms of traffic and other urban concerns.
The Frizells, who also have two daughters, made the difficult decision to place Tom in an outside part-time living arrangement from the ages of 16 to 19 because he displayed aggressive behavior.
Tom now lives with a family outside Lawrence, and Allison said being outside in an open space has offered him more freedom than he ever had.
"He looks physically fit and eats and sleeps well, which wasn't the case in previous years," she said. "Instances where he is aggressive also are few and far between. He is more happy and he has become more independent because, even though the people he lives with are about 100 yards behind him, he is going for walks on trails by himself."
In 2004, CLO representatives began making visits around Douglas County to see what, if anything, matched their vision. They purchased the land for Midnight Farm in 2005.
"Part of me can't really believe this is happening because for so long it just seemed like a pipe dream," Allison Frizell said. "We all know we've got a lot of work ahead, and it will be a long process. We hope that this setting will be Tom's last home."
Strouse, who has a doctorate from Kansas University in behavioral analysis, also hopes that those who visit Midnight Farm will become aware of programs they did not know existed.
"Even though this is a recreation opportunity and a life enrichment opportunity, we also hope families who have a child with disabilities will come in contact with CLO services and learn what kinds of publicly funded services they can get that maybe they didn't know about," Strouse said. "If you can help and get involved in developing good teaching plans early, you can make a real difference."
Though he stressed that Midnight Farm would not necessarily cure the conditions of its residents, doing things that made them happy could improve their quality of life and that could lead to improving certain deficiencies.
"If you do things that they enjoy doing, a lot of that stuff melts away," Strouse said,
In its research partnership with KU, CLO also intends to use Midnight Farm to develop the first-of-its-kind program that would certify horses to work with disabled people.
More like this story