De Soto Days Festival rebounds big
Big crowds accompany cool weather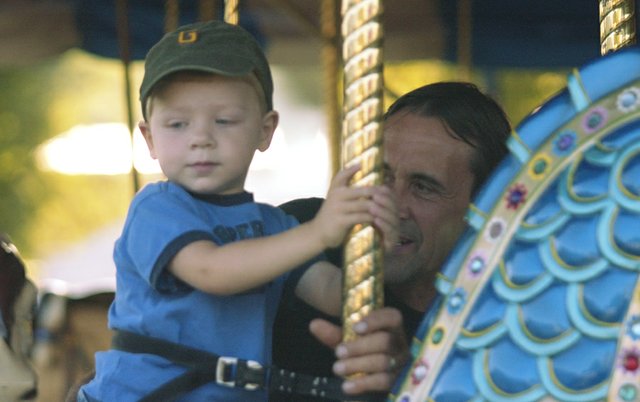 This year's De Soto Days Festival got off to an inauspicious start when a thunderstorm moved through De Soto just as festivities were slated to start Thursday evening.
The storm pretty much washed out the festival's first night, but the cooler temperatures in its wake seemed to help drive attendance the next two days. Saturday, with temperatures topping out in the mid-80s, was particularly successful.
"Friday and Saturday were great, and we really had great attendance," said Raheema Sampson, chairwoman of the De Soto Days Festival Committee. "There weren't any major hiccups, so I think it went great."
Attendance was good enough the last two days of the festival that the Evans Midland Empire Shows was able to make as money Thursday and Friday as it did in three days in 2007, Sampson said.
Vendors, too, reported good business Saturday, both along the food booth row and in the ball field where commercial and craft vendors set up tents.
At the De Soto United Methodist Women's booth, Boots Linden said early Saturday afternoon there were no more bierocks to be had.
On the ball field, Robin Mullen of Olathe said business was steady at her jewelry booth, an observation shared by other vendors.
John Evans, owner of the carnival, sounded the only sour note, and it wasn't about business this year but about the prospect of the De Soto Days Festival relocating to Riverfest Park in 2009. He had looked at the site and worried that it wasn't big or level enough.
"I like it here," he said. "I think it's established here. People are used to coming here."
Sampson said Evans shared those same thoughts with her.
"I'm not sure if we do move we'll have the full support of the carnival, so we might have to take that into consideration next year," she said.
But she said Evans viewed an unfinished Riverfest Park.
"I think right now it is kind of hard to visualize a park down there," she said. "When he can see it's finished, it will be better for them, I think."
De Soto city engineer Mike Brungardt said city park director Jay Garvin estimated the carnival took up about 4.4 acres of Miller Park with rides and games, as well as truck and RV parking.
Riverfest Park's peanut-shaped green reserved for the carnival would have about 3 acres available for carnival rides and games, Brungradt said. There would be ample room for the carnival's parking nearby, he said.
The carnival green at Riverfest was just as flat as Miller Park, Brungardt said.
Sampson said before starting planning for next year, she would review this year's planning effort.
"We're going to look at everything that was difficult planning this year to see if there is anything we can do to simplify it or make it easier for the committee," she said.
More like this story