A roaring victory
Cats play Bishop Miege for district title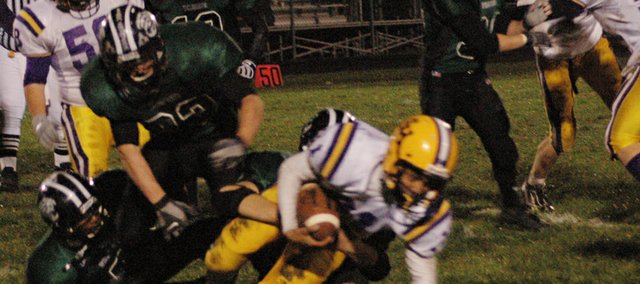 The wait is over for the De Soto Wildcats. The Wildcats 38-7 Senior Night win over Spring Hill last Friday night put the Wildcats in the playoffs for the first time in four years.
The Wildcats will play at Bishop Miege at 7 p.m. Friday for the district championship.
"We're just excited to get to this spot but we know we have got a lot of work ahead of us," De Soto coach Brad Scott said.
After a sluggish first quarter against Spring Hill, De Soto (4-4, 2-0) regrouped and scored touchdowns on three consecutive drives in the second quarter to take a 26-7 lead at the half.
Junior quarterback Logan Clark threw three touchdown passes in De Soto's convincing win. Clark connected with senior Josh Fisher on a 67-yard touchdown, senior running back Clinton Davis scored on a 50-yard pass, and senior tight end Michael Mello hauled in a 9-yard touchdown pass from Clark.
Fisher's touchdown came on
a rollout by Clark that found Fisher wide open in the flat. Clark dumped him the ball, and Fisher streaked down the left sideline for a score.
De Soto spread the ball around offensively, and was aided from big blocks by senior lineman Mike Sprowl.
At the line of scrimmage on both sides of the ball, Sprowl, Jake Radell, Austin Thompson and their teammates manhandled the Broncos opposing line much of the night, giving Clark plenty of time to throw and keeping Broncos quarterback Jordan Miller under pressure much of the night. Fisher also recorded a sack in the third quarter.
"We had them outsized and outnumbered," Sprowl said of the De Soto linemen.
After losing its first four games of the season, De Soto has recovered and steadily improved from week-to-week.
"All the seniors, we stepped up and started having meetings," Sprowl said. "We decided that we needed to rally as a football team and come together, and finally we got it done."
Scott said that Sprowl's play on the offensive line was one of reasons for De Soto offensive success.
"Mike has been a stalwart on our offensive line since he was a sophomore," Scott said. "He's really having a great senior year. He's a big, strong, fast physical kid.
"The whole team kind of feeds off of him. When Mike goes off and he pancakes somebody, it kind of brings everybody else along."
All the seniors got to start the game on Senior Night, but the Wildcats are hoping to play a few more home games this year.
"We've got a really good senior class and it was nice to see them go out like this," Scott said. "But we told them that we didn't want this to be our last home game on this field. So we're hoping to make some noise in the playoffs and get in and do some damage."
After the game, the team gathered near midfield and celebrated its win and playoff- making accomplishment. But Sprowl was already focused on Thursday's game.
"We're happy to be here," he said. "If we win the next game, we're district champions and then we can hang some banners in the gym."
And Fisher added that was the team's goal all along.
"That's what we're planning on doing," Fisher said.
If the Wildcats win, they will play at home Tuesday night against the District 4 runner up, which could be Eudora, Baldwin or Perry-Lecompton. If they lose they, will play on the road against the District 4 champion.