Cats finish in top-5 at regionals
Squads qualify for state meet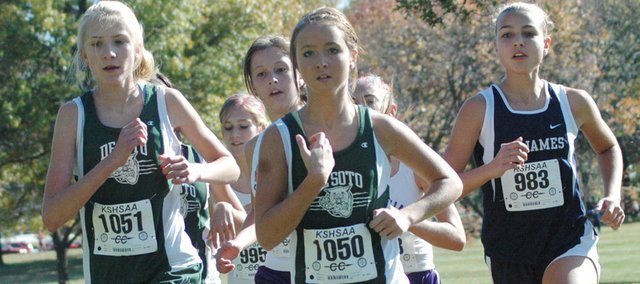 Signs of fall abound. The leaves are glowing red and yellow, there is a chill in the air and, of course, the De Soto cross country teams are heading to state.
Some things never change.
De Soto clinched a spot at Saturday's state meet after the boys and girls teams finished third and second, respectively, at regionals at Wyandotte County Park last weekend.
This is nothing new for De Soto. The boys team has now qualified for state six-straight years, while it is the sixth time in seven seasons for the girls.
Coach Chris McAfee is happy that his teams once again qualified for state, which has become their own little autumn tradition.
"I am glad we'll be running for another week," said McAfee. "We still have things to work on, but we're obviously excited to be running at state."
Despite a good regular season, De Soto still needed to run well at regionals to qualify for state. The regional competition featured 1A-4A schools from across northeast Kansas, and the top three teams advanced to state.
In what now seems like an annual occurrence, the De Soto boys and girls both finished in the top three, earning them a trip to Wamego Country Club, the site for the state finals this weekend.
The boys team finished in third-place at state in 2007 and 2006; the girls won state in 2006 and took second last season.
For the girls, the state meet will probably resemble the regional meet, where Baldwin and De Soto came in one-two.
"On the girls side, it looks like it's the two of us," McAfee said of Frontier League rival Baldwin, which eeked past De Soto 30-43 at regionals. "If we don't get more consistency from our three, four and five girls – if we can't get them to run where they're capable of – then we're looking at a third-or fourth-place finish. But if we run better, we can definitely win it."
The boys side looks a little stingier. According to McAfee, host Wamego has the best team in the state. And despite winning regionals and beating De Soto, McAfee said that Baldwin was only the third best team in the state. So the boys will have to run a near-flawless race to bring home a trophy, as they have the last two seasons.
At regionals, Ellie Sheridan took first place for the girls with a time of 15:43, and Lacey Erickson finished third, coming in at 15:57. It was the same order that they finished the league championship two weeks ago. Battling a illness, Carly Stanley came in seventh at 16:56, while three other De Soto runners placed in the top-25.
On the boys side, Colin Jokisch and Austin Hinchey finished in the top-10. Jokisch finished in third with a run of 17:18, and Hinchey finished sixth at 17:39.
Trey Lind, Ry Patton and Bryan Jessip all finished between 15 and 21 for De Soto.
The seemingly annual fall tradition of De Soto going to state has continued. Now the question is if, like they have the last few years, they can bring home some hardware.
More like this story