Wildcats bounced from regionals again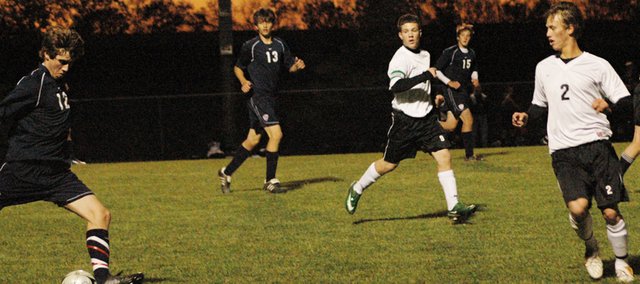 Maybe the De Soto players who collapsed to the turf and buried faces at the end of overtime were exhausted.
But maybe they just didn't want to watch the other team celebrate on their field.
St. James ended De Soto's season in regionals Tuesday night with a golden goal in overtime, clinching the 1-0 victory. It was the first time all season that De Soto (13-2-2) was shut out.
Coach Darren Erpelding spoke with his players for several minutes following the match, and even though this is the fourth straight year that De Soto has been bounced from regionals, he said it hadn't gotten any easier.
"Nothing I ever say to them right now is going to make them feel any better, especially the seniors," Erpelding said. "I can sit there and say all sorts of things but right now it won't matter."
Both teams had chances to get on the board prior to overtime. De Soto blasted a shot off the crossbar in the 15th minute, and St. James did the same early in the second half. Each team also sent balls bouncing through the penalty area, but neither squad was able to put one in the net.
"If that one ball goes in, things might have been different," Erpelding said. "It was a very, very even game. I think if we get one of those goals early, it would have been different."
The decisive goal from St. James' Frankie Zitnik was actually one of the more optimistic attempts of the evening. He sent a ball toward the net from about 25 yards out. The shot rose over the keeper's outstretched hands and found the upper corner of the net.
Despite not reaching the state tournament, the Wildcats still had one of their best seasons in school history, if not the best. They captured their first Frontier League championship after amassing a 12-1-1 league record, and their 13 regular-season wins is the most in school history.
"This season was a blast," Erpelding said. "I really enjoyed the season, the guys really enjoyed the season, we've got nothing to hang our heads about.
St. James had a 4-11 record entering Tuesday's game, but those numbers are a bit deceiving. St. James doesn't play in a league, which means that they can schedule an array of different opponents, including bigger schools.
"I don't think you're going to find a better 4-11 team in the nation," Erpelding said. "St. James has a very good team. I don't have a doubt in my mind that they're going to state. They'll put the other teams away hands down."
De Soto will lose only four seniors, and the majority of its scoring will return next season. While it was hard for Erpelding to look ahead just yet, he did acknowledge that his players had a better idea of what it would take to finally get out of regionals.
"These guys worked their butts off for 12 months, but now they know they'll have to work even harder," Erpelding said.