Candidates for 9th Senate District pitch experience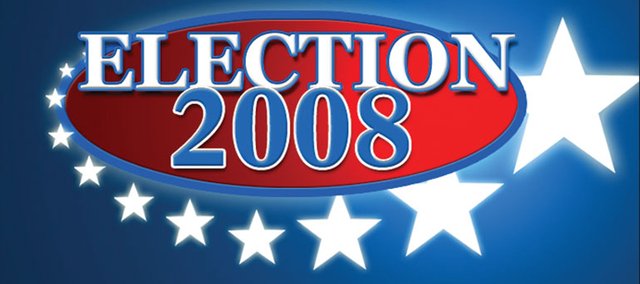 It's an indication of the opportunity the 9th Kansas Senate District offered Democrats that a well-known resident of the district announced his intention to run for the seat 16 months ago.
The Republican parties determination to keep incumbent Julia Lynn in the Senate was demonstrated Tuesday when Senate Majority Leader Derek Schmidt accompanied Lynn on campaign stops, including door-to-door visits.
The district came into play when Kay O'Connor, who twice won election to the position, resigned in November 2006. Lynn was later selected to succeed O'Connor at a Republican Party caucus before the start of the 2007 Legislative session.
That was followed in July 2207 by an announcement from Ron Wimmer, longtime superintendent of the Olathe school district, that he would seek the seat.
Wimmer said he decided to run for the Senate not against someone. The only reference he made of his opponent was to claim the distinction of being the moderate in the race.
By staying away from extreme views he can reach out to individual and groups of different political persuasions to do what's best for the 38th District, Wimmer said. It was something he did as superintendent of the Olathe school district from 1991 to 2005.
"I have a very effective record of getting things done," he said. "I'm not a career politician but someone who works with people in a bipartisan manner.
"I have a record of being a moderate working very successfully in a conservative community."
Working in those circumstances, he administrated a large organization devoted to the best use of taxpayer dollars, Wimmer said. It was an accomplishment recognized in a legislative audit performed by Standard & Poor's, which found the Olathe district the most cost-effective large school district in the state, he said.
Lynn, too, focuses on her qualifications and accomplishments. Her two years in the Legislature have provided valuable experience and knowledge of how the legislative process works, Lynn said. In addition she developed relationships that allow her to get things done.
Among what Schmidt said was an impressive list of accomplishments for a first-term senator were three initiatives last session specific to De Soto.
Lynn introduced a bill that created the De Soto Riverfront Authority, which she said would allow the community to decide how to development the potential of its location on the Kansas River. She introduced and helped pass legislation that the city of De Soto requested to ease its consolidation with Johnson County Rural Fire District No. 3. And she fought hard to secure tax incentives for a local expansion Huhtamaki Americas Inc. is considering for its United States operation.
She is also a Republican, and that is important when Republicans control the Senate and the House, Lynn said. Schmidt's presence Tuesday emphasized that point, and the candidate said she would use her established relationships with GOP leadership to get things done for the district.
"I'm going to use my clout," she said.
Wimmer said he, too, has established relationships beyond those that would be expected of a career educator. He is on the Olathe Chamber of Commerce Economic Development Council and Commerce to Business Advocacy Council, local chairman of the Kansas Research Triangle and on the Lenexa Chamber of Commerce Legislative Affairs Committee.
"I've been active not just in education by the business and economic development communities," he said. "I understand what needs to be done there."
He would like Kansas to create something similar to the quality jobs programs in Missouri and Oklahoma that provides incentives, including cash, to companies creating jobs in targeted industries, Wimmer said.
Such an incentive was included in the Kansas bio-science initiative. Wimmer said he didn't support restrictions on stem-cell research that could limit life science opportunities in the state.
"I'm supportive of life-saving cures," he said. "The medical and health areas are areas that offer opportunities for economic development. De Soto has benefited nicely from development in those areas.
"We just have to be supportive and on top of those opportunities."
The former superintendent also said quality schools were the foundation of all economic development efforts, as Johnson County's success has proved.
From conversations with economic development officials in the metropolitan area and the state, Wimmer said the state's overall economic development toolbox appeared to be adequate and competitive.
"There's not a great deal that needs to be done," he said. "It's just a matter of working together and marketing."
The tools may be in the box, but Lynn argues they need sharpening. She spent much of last session attempting to amend existing economic development measures to make De Soto more competitive for a possible Huhtamaki expansion.
Her commitment was such that Schmidt said it was difficult to introduce an economic development measure without Lynn knocking on the door asking what could be done for Huhtamaki.
She advocates the creation of a fund to provide cash for capital projects to companies looking to expand or relocate in Kansas, Lynn said. Getting such an economic development tool passed would be one of her priorities in the next session, she said.
A more competitive tax policy would also enhance economic development, Lynn said.
The state wasn't getting its best value with an education system that produced graduates who then moved on to other states, she said.
The state missed an economic development opportunity last session when the Legislature couldn't override three Gov. Kathleen Sebelius vetoes of legislation that would have enabled the construction of coal-fired electrical plants in western Kansas, Lynn said. The plants would have provided western Kansas jobs, tax dollars to help schools and energy for the state's economic engine in eastern Kansas, she said.
The proposal will return in the next session, Lynn and Schmidt said because additional coal-fired plants were inevitable. Although alternative energy sources can augment coal-fired plant, there is no other option other than too-expensive nuclear power available to provide the baseline energy the state needs, they said.
"The good news is nothing every dies in Topeka," she said. The question should be would the state allow construction of cleanest, most environmentally friendly coal plants in the U.S., she said.
Wimmer said he supported the governor's vetoes but added that both sides backed into hard line positions during the debate. The state can't entirely back away for coal, but the plants should be considered in the context of a long-term energy plan that took advantage of the state's alternative sources, including solar and wind.
"There is a lot of economic development potential for wind and solar power," he said. "We need to be more flexible on how we provide energy in the future."
Flexibility was also a key as the state considers a new transportation plan with the expiration next year of the current 10-year, $13.2 billion plan, Wimmer said. He was in favor of developing a plan, but a different approach — perhaps of a shorter, more limited scale — was needed with the uncertainties in fuel prices and the economy that could radically change driving and transportation norms.
"I keep hearing we are in historic times," he said." I very supportive of having a plan, but I think we need to have an open mind about how we go about doing it."
For her part, Lynn enthusiastically endorsed development of another long-term plan.
"I can tell you without a doubt we need a long-term transportation plan," she said. "Businesses and families aren't going to looks to move here unless we have long-term plan."
Lynn said she with the current economic downturn and the uncertainty of its consequences on state revenue, she wasn't yet sure what lawmakers could do for education in the next session
Wimmer shared those reservations, especially concerning the Legislature's current commitment to add a cost-of-living increase to state education spending of $130 million for the 2009-2010 school year. But Wimmer said he favored doing everything possible to meet that commitment.
That might necessitate spending cuts in other areas, something the Olathe school district had to do in tough times such as the years following 9-11, Wimmer said.
"We were faced with times we couldn't do it all," he said. "My position has always been we can find efficiencies in government operations."
Concerns have changed in the 16 months he has been on the campaign trail as gas prices rose to record levels and the economy was shaken, but one thing has been constant, Wimmer said.
"One common theme is our children's education cannot be sacrificed," he said. "It's a priority all parts of the district."
"That's what brought them here and what they want to see continue."
Lynn has the endorsement of Kansans for Life. But she coupled that endorsement with one from the Kansas Chamber of Commerce, such a dual endorsement not too many candidates received, she said.
Wimmer said his position on abortion reflected those of the majority.
"I not an absolutist on the issue," he said. "I don't know anyone who advocates abortion. But I believe there are some situations shouldn't be determined by government or politicians."