De Soto candidate's wife films opponent removing campaign signs
Toplikar says incident misunderstanding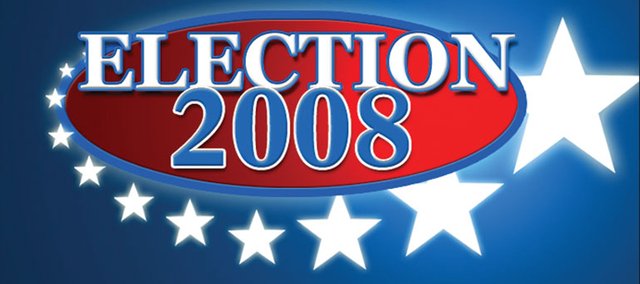 Johnson County 6th District Commissioner John Toplikar said two citations he received Saturday for removing and possessing the campaign signs of his opponent were the result of a misunderstanding.
Toplikar was videotaped Saturday removing the campaign signs of his opponent, Calvin Hayden of De Soto, and later stopped and charged on two counts of misdemeanor theft by officers with the Olathe Police Department.
Toplikar said he removed the signs because Hayden's supporters had placed them in front of his signs at a prime site across the street from the Johnson County Election Office on Kansas City Road in Olathe where county residents can fill out in-person advance ballots.
The video was taken by Teri Atwell of Olathe, who was riding in a vehicle with Calvin Hayden's wife, Kelly. They were one of two teams in the area working to catch on videotape Toplikar removing Hayden for commission signs.
The Haydens said they first observed Toplikar, Olathe, ripping up three of Calvin's signs Friday evening near the Olathe District Athletic Complex off Kansas Highway 159. When they called the Olathe Police Department about what they were seeing, they were told a better case could be made if they had video of Toplikar taking the signs.
The couple estimate $1,000 worth the Calvin's signs disappeared this campaign season, including 12 large signs and 35 smalls ones Oct. 21. Calvin filed four complaints with the Olathe Police Department where most of the signs were disappearing.
Kelly said she and Calvin spend a large share of their evenings placing and replacing signs throughout the 6th District and Olathe.
The couple said it was on one of those missions Friday evening that they saw Toplikar removing and ripping Hayden's campaign signs. Up to that time, the couple thought Toplikar's supporters or vandalism was behind the missing or trashed signs.
"And then we saw him Friday night in board daylight," Kelly said. "It was like, 'This is unbelievable."
Kelly decided that was what she going to attempt to catch Toplikar removing or destroying signs on tape.
"We had an argument over this, actually," Calvin said. "Driving home, she said, 'I'm going to get up early tomorrow morning. I'm going to tail him, and I'm going to catch him.'
"I told her she was wasting her time."
Kelly went through with her plan, with the help off Atwell and another team of Kent and Kathy Willnauer of rural De Soto.
Kelly said she left home at 4 a.m. for Olathe, driving around that city replacing signs and placing new ones. On Kansas City Road near the Johnson County Election Office, they found several of Calvin's signs under an evergreen tree.
"We knew he was in the area," Kelly said.
At about 1:15 p.m., Kelly and Atwell spotted Toplikar removing Hayden's signs and placing his across the street from the election office. While Atwell videotaped Toplikar's actions, the Willnauers called the Olathe Police Department.
Toplikar said he knew the Haydens or volunteers with his opponent's campaign were in the area. He said he throw the two signs found in his possession in his van in order to confront those in a mini-van he thought were responsible for placing the signs in front of his.
"I had them in my hand moving them when the mini van moved up," he said. "I was going to confront them. I was going to tell them I was tired of being blocked or tired of those kinds of tactics."
But Toplikar said the mini van moved on before he could talk to its driver. He then throw the signs in his van and started what proved to be a cat-and-mouse pursuit of the mini-van. Before he could catch the mini-van, he was stopped by Olathe police, he said.
Toplikar said many of his signs have also been stolen or destroyed. He would file a complaint Tuesday with the Olathe Police Department concerning the disappearance of 300 of his signs worth $2,500, he said.
Toplikar denied he ripped up Hayden's signs Friday or any other time. The incident was Calvin Hayden's attempt to deflect attention the real issues in the campaign, which was the incumbent's stand for fiscal restraint and his opposition to spending measures Hayden supports — such as the public-safety and research triangle sales taxes and county funding for the Intermodal near Gardner, Toplikar said.
Calvin said Toplikar's actions didn't demonstrate the judgment constituents in the 6th District want in a commissioner.
"I think it certainly demonstrates bad judgment," Calvin said. "It reflects on your character. It's sad that you would stoop to that level over something so insignificant."
Attempts to reach Toplikar by phone or leave a message were unsuccessful.