Wildcats run to top 5 finishes at league meet, ready for regionals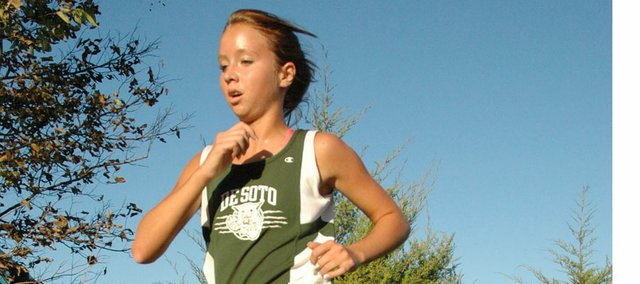 The roadblock that prevented the De Soto cross country teams from winning the Frontier League meet last Saturday could be the very thing that propels them out of regionals this Saturday: stiff competition.
The De Soto girls finished second and the boys finished third at the Frontier League championship meet at Gardner last weekend; Baldwin won both meets.
Coach Chris McAfee said that he wasn't surprised that his teams couldn't claim the No. 1 spots, but also not disappointment.
"It's about what we expected," McAfee said. "But you know that if you can compete in our league, then you're one of the best in the state."
For the girls, Ellie Sheridan continued her stellar season by placing first, setting a course record of 15:47 in the process.
"People were chasing Ellie the whole time," McAfee said of his top runner. "She was being relaxed and patient."
Teammate Lacey Erickson came in third at 15:59, giving De Soto two of the top three spots. Despite not placing in the top three, Baldwin was able to claim No. 1 as a team with six different runners finishing in the top 10. Six runners from De Soto finished in the top 20, including Sheridan and Erickson.
"We ran a girl short because of an injury," McAfee said. "So I think more than anything that's what kept us from taking first. We'll just have to move up a little bit so we can break up their pack."
The boys had three top 10 finishers: Austin Hinchey was fifth at 17:33, Trey Lind came in eighth at 17:57 and Colin Jokisch ninth at 18:00. De Soto also owned the 17, 22, 32 and 33 slots in the boys race, giving the team six of the top 33 runners.
McAfee doesn't have anything out of the ordinary planned leading up to the regionals meet Saturday at Wyandotte County Park. Now it's just a matter of the athletes running to their potential.
"If we go out and run the way we're capable of, we'll be pretty happy on Saturday," McAfee said. "It'll be a normal week. We'll try to get up on the course on Friday.
"We're pretty familiar with it and it's a course where we've been successful. We've had great success there in the past, so we'll be ready."
Simply having gone through a Frontier League season has already pitted De Soto against some of the best teams in the state.
"We've faced some good teams, good programs," McAfee said.
McAfee is just hoping that his Wildcats will be one of those teams.
More like this story