Wii wows De Soto Hillside Village residents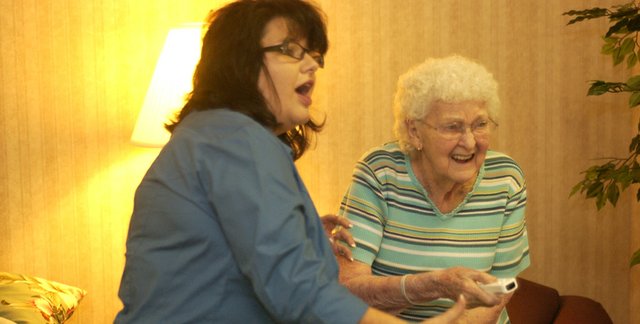 Even setting up their new Nintendo Wii game's golf opponents, proved fun for Hillside Village residents.
When the second opponent was make a blonde, resident Phyllis Rockers replied that blondes have more fun.
"Speak for yourself," said dark-haired resident Pat O'Brien.
With that, eight Hillside Village residents began playing the video game the Kansas Silver Haired Legislature gave the facility Friday. With only one prior experience with the game, the residents were still getting acquainted to the games and the use of the controls.
Still the game got the stamp of approval from the residents. Some simply said they liked it or it was fun, but Phyllis Rockers explained the appeal in words worthy of Wii ad copy.
"I like it because it's a exciting activity. It makes you work you legs and arms more, and we can all yell for each other," she said.
Activities associate Lynette Knapp said the looks on the faces told more of the residents' fun with the game than their works.
"Did you see Gerry's (Burnan) face when she made the putt?" she asked. "She was really excited."
Hillside Village activities director Alesa Miller said Monday's second practice session was only a start. As the residents improved their skill level, teams from within the home will play each other and those from other facilities via the Internet.
In addition, Knapp and Miller said the game would be incorporated in Hillside Village's daily exercise routines.
"A lot of the movements they do here, we're doing in our exercises," Knapp said "So it blends real well.
"In the winter when we can't go outside, it is really going to get used."
She also liked how the residents got into the game and cheered for each other, Knapp said.
Resident Pat O'Brien said she enjoyed the game but didn't want to start playing competitively until she got better. And when that time came, she and other residents said they wanted resident Bob Tanner on their team.
"He knows what he's doing," O'Brien said.
A doctor before retiring, Tanner said he played plenty of golf but never video games. Nonetheless, he knocked down a birdie and a par Monday while playing both opponents.
"It's fun," he said. "It's a great deal."
More like this story