De Soto's scrap foil feeding Bob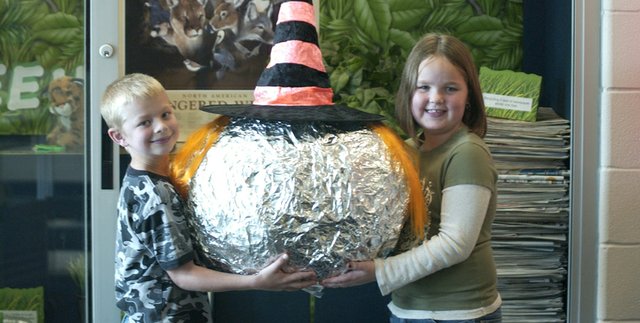 After a month and half in Starside Elementary School, Bob the Ball is really growing on students.
Since Sept. 1, the ball, which is part of the school's yearlong green initiative, has grown from the size of a softball to a large beach ball and there seems to be no limit for Bob's appetite for De Soto's aluminum foil scraps.
Starside counselor Paula Henderson said Bob's growth could mean changes were coming as the ball threatened to outgrown its place in the glass showcase in the school entryway.
"He may get a body and arms and legs," she said.
The Starside faculty has been amazed at the students' dedication to grow Bob, Henderson said. Parents have reported children insisting they save aluminum for Bob, she said.
"They come in morning and can see Bob is bigger," she said. "Every morning, we have a big pile of foil to add to him."
Right now, Bob is dressed up in Halloween drag, with a witch's hat and wig. But Henderson said the Halloween costume would disappear in November when Bob would be appropriately dressed for Thanksgiving.
Bob got his name when during a meeting students said the grown ball needed a name.
"One of the students said 'Bob,'" she said. "It just fit. He's been Bob the Ball since then."