De Soto community rallies to family's medical crisis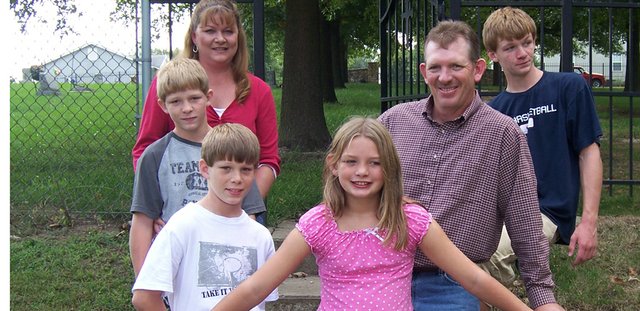 With four athletically inclined children, it didn't take Kirk Johnson long to become a part of the local sports scene after the family moved to De Soto in November 2003.
"It was pretty much the first day we moved here," he said. "We were at a game, and a woman said she didn't know much about coaching and said would anybody help. I said sure."
Since then, Kirk coached basketball and football teams on which his 15-year–old son, Joey, 12–year-old twins Justine and Jason, and 9–year-old-daughter Julia played.
"He's coached 29 youth teams in different sports in the five years he's been in De Soto," said friend John Pruss. "He's been very influential in the lives of kids. There are a lot of parents who really do appreciate the improvement he made in the athletic skills of their children."
Pruss said Johnson was able to teach what he learned as a star athlete at Pike Valley High School is central Kansas who won a track scholarship to Fort Hays State University and successfully earned a spot on that school's football team as a walk on.
Parents also enjoyed watching as Johnson taught those skills the right way through positive feedback, Pruss said.
For Barb and Kirk Johnson's sports crazy family, last weekend was more of the same. Joey was to suit up for the first time with De Soto High School's varsity football team, and Kirk would coach to a win Saturday the 8-0, 12-year-old youth football team the twins play on against what was an undefeated team from Mill Valley.
Kirk said he had the life he dreamed of two years after the moved to De Soto: A loving family, a beautiful home in De Soto's new Timber Lake's addition, respect of the community and a successful home remodeling business.
But in May 2006, an unexpected diagnosis of colon cancer started to rewrite the script of Kirk's life.
"I was busy raising my kids, and then I got that news," he said. "My dad had prostate cancer, but there was nothing like colon cancer in my family before."
His father did provide an example of someone successfully battling cancer through surgery and chemotherapy, Kirk said.
He did the same with surgery in December 2006 and chemotherapy treatments through February 2007. The treatments ended with word he was cancer free.
Then, routine follow up tests last summer indicated the cancer had returned. Doctors confirmed that diagnosis earlier this month with the news the prognosis wasn't good.
"Doctors say six months to a year," Kirk said. "When I heard that, I automatically thought a year.
"We're going to beat it. We're not even in the second half yet. It's early in the first quarter."
With that in mind, Kirk and Barb traveled last week to Cleveland, Ohio, to get a second opinion on treatment options. Specialists there agreed the chemotherapy treatment local .
How to help
Kirk Johnson Can Do Support Group fundraisers include:
• De Soto Pizza Hut Johnson Family Day: 20 percent of all dine in, carry out or delivered orders Sunday, Oct. 26, will be donated to the Kirk Johnson Family Fund.
• A golf tournament Nov. 15 at Dub's Dread Golf Club, 12601 Hollingsworth Rd. in Kansas City, Kan.
• A third- through eighth-grade football skills contest starting at 11 a.m. Nov. 16 and tentatively scheduled for the De Soto High School stadium.
• A blues and barbecue, dance and silent auction from 5 p.m. to midnight Nov. 22 at the De Soto VFW Post 6654.
For more information on the event, call John Pruss at (913) 583-3355 or Monte Freeman at (913) 583-1789.
Contributions to the Kirk Johnson Family Fund can be made to the De Soto Team Bank care of Michele Daniels, 43102 W. Commerce Dr., Suite A, De Soto, KS., 66018.
More like this story