Wildcats take down Thunder 28-7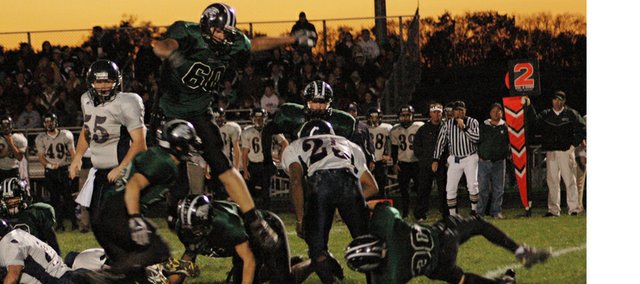 Opening district play against St. James Academy, the De Soto Wildcats got off to an early 13-0 start and never looked back in a resounding 28-7 victory over the Thunder Friday night.
The Wildcats have now won three consecutive games and are 3-4 on the season and 1-0 in its district. St. James falls to 4-3 and 0-1.
De Soto relied on the strength of its multi-headed rushing attack that gained 230 yards on the night. The trio of Dylan Burford, Logan Clark and Clinton Davis rushed for 172 with Clark adding a touchdown to his evening. Clark also threw for two more touchdowns. For the full story, read Thursday's De Soto Explorer.
1 2 3 4 T
St. James 0 7 0 0 7
De Soto 13 0 0 15 28
DHS—Jamel Townsend 43 pass from Logan Clark (Alex Crall kick) 5:36
DHS—Mark England 22 rush (PAT miss) :13
SJA—Jim Getto 1 rush (PAT good) 9:08
DHS—Clark 1 rush (Dylan Burford 2-pt. conversion) 9:09
DHS—Michael Mello 7 pass from Clark (Crall kick) 3:15
More like this story