Wrong turn might make right for Cats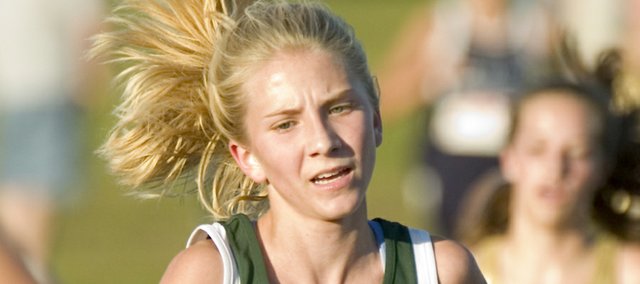 For the De Soto girls cross country squad, an ill-advised detour just might have set them on course heading into the final leg of the season.
During last Thursday's 4K meet at Shawnee Mission Park, De Soto's top two runners Ellie Sheridan and Lacey Erickson were in second and third place when they made their move.
Alas, it wasn't the move they were hoping for. They took a wrong turn on the two-lap course, and before they knew what happened they had squandered their top-five positions.
But De Soto cross country coach Chris McAfee said the gaffe might be a key component in the team's late-season push.
"It was actually a blessing in disguise," McAfee said, "because it was probably the hardest they have ever run. They had to push it to another level just to get back in the race. Now they know they have more in the tank that they can dig down and get to.
"It wasn't encouraging at the time, but it will help them in the long run."
Sheridan and Erickson turned it on and ended up finishing fourth and fifth, respectively. Sheridan crossed the finish line fourth with a time of 16:03, while Erickson came in at 16:10.
Behind the strength of Sheridan and Erickson, De Soto finished in fifth overall, the highest placement of any 4A school at the meet.
McAfee is confident that, despite the occasional wrong turn, his team is heading in the right direction as the season hits the home stretch. That is good for De Soto, because the bar has been set pretty high. The girls team won state in 2006 and finished second in 2007.
"Those young kids have really grown up a lot this year and have really stepped forward and are having a great year," McAfee said. "They'll do fine. They have a lot of big meet experience already, so I'm not too worried about it."
The boys also did well at the meet, which was hosted by Mill Valley. McAfee named a long list of players who were either sick or injured, but they still finished sixth overall. It was the second highest finish by a 4A school behind No. 4 Paola.
Running a 5K loop, Colin Jokisch was the top Wildcat with a time of 16:59, good for seventh place. Austin Hinchey came in at 17:09, which earned him the No. 11 spot.
Three different De Soto boys finished between 45 and 53 out of 99 runners.
With the Frontier League meet Thursday at Gardner, McAfee said that injuries had made it hard to gauge how the boys would compete against the rest of the league.
"We could very easily be fourth or very easily be second," he said.
The boys have qualified for state in each of the last five seasons, so they have some high expectations as well.
But McAfee said that both the boys and girls were ready for today's league meet and the Oct. 25 state qualifiers.
If they stay on course, that is.
More like this story