Wildcats win league title for first time in history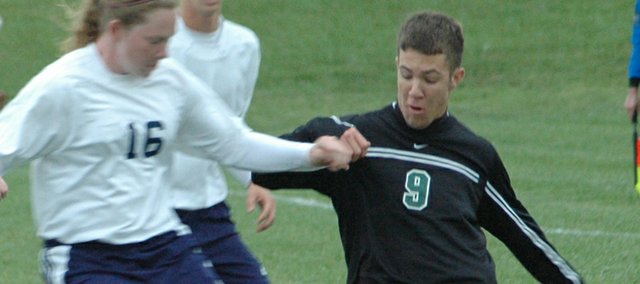 The threat of a post-game training session lit a fire under the De Soto boys soccer team. Then it lit up the scoreboard.
The Wildcats were leading just 2-0 at halftime in Tuesday's game against the winless Eudora Cardinals. So De Soto coach Darren Erpelding, not pleased with his team's effort, warned his team that a repeat of its lethargic first half would earn some additional exercise should things not improve in the second frame.
"He told us we needed to talk and communicate," said Brett Hevel. "If we didn't talk we were going to have to run after the game. And we didn't want to run. That'd be embarrassing."
Erpelding's threat worked.
The Wildcats controlled the second half, scoring three goals in a five-minute span on their way to an easy 5-0 win against overmatched Eudora. The win clinched the Frontier League championship for the Wildcats.
"It's the first league title in the history of our program," Erpelding said. "This is the first one, so that's really nice to have."
The De Soto scoring began with Jordan Riffel's goal in the eighth minute of the first half. That was followed a few minutes later by a rainbow shot from Hevel that looped over the head of Eudora's keeper from more than 20 yards out.
But that was all De Soto would get in a first half marred by missed opportunities. Twice De Soto put balls in the side netting, and twice more De Soto hit the woodwork. A bevy of corner kicks produced few good chances on goal, and on several occasions Eudora's goalkeeper turned away shots that didn't have enough power to get by, which led to Erpelding being steamed at the intermission.
"We didn't play very well in the first half," Erpelding said. "We didn't communicate well enough, and that's something we've got to work on.
"We really got lazy a lot of the time. We didn't move the ball enough. We had a decent game, but we had a lot of opportunities to put the ball away and we didn't convert."
Thanks in part to the prospect of some post-game running, things turned around in the three-goal second frame, which was dominated by the Wildcats. Hevel, Octavio Villa and Duncan Henderson all scored goals in the half. Erpelding was pleased with the turnaround, even if he had to bark at his team to get it going.
"We did a much better job in the second half. We scored those three goals in about five minutes, and that's when we were doing the most talking. I told the guys, 'Hey, there's a correlation here.' So it was better, but it's still not where it needs to be."
Despite being the mathematical lock to win the Frontier League title, Erpelding did remind his players that Thursday's opponent, Gardner, handed the Wildcats their only loss of the season in a hapless 4-1 effort.
"I just told the guys that until we beat Gardner, I don't feel like we're true league champs," Erpelding said. "They're the ones that knocked us off and they've beat us the last two times we played.
"We thought it was going to come down to them and us, and that didn't happen, but still, we're going to come out after them extremely hard."
Even though they have already clinched the league title, there is a sense of unfinished business.
"In our minds," Erpelding said, "we're not going to feel like it's complete because we feel like we owe them something."
More like this story