Taking center stage
Brian Murdock bridges De Soto weekend's two big events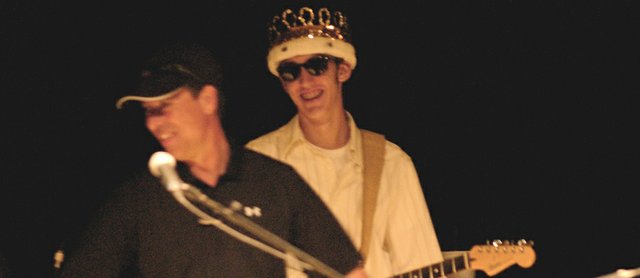 Friday was a special and event-filled evening in De Soto. The De Soto Chamber of Commerce Blues and BBQ opened the new Riverfest Park while De Soto High School celebrated its 2008 homecoming about a mile away.
Brian Murdock knitted the two events together and managed to star in both.
"I had a lot of fun," he said. "It was a long night but fun."
Murdock was crowned homecoming king at halftime of De Soto's 33 to 7 victory over Ottawa.
After sitting for photographs after the halftime activities, Murdock raced to Riverfest Park to play rhythm guitar for the De Soto band "Bluzville."
"I like the blues," said high school senior who says the late Stevie Ray Vaughn is his inspiration. "It's my favorite."
Murdock said he started playing guitar about four years and was invited to start practicing with Bluzville about a year ago by his neighbor and band member Randy Maddox. As he improved, he was invited to join the band for about four or five gigs a year.
Friday's quick trip didn't leave any time to change wardrobes and Murdock took the stage in his homecoming clothes, complete with crown.
"I got a few comments on my crown," he said. "They seemed to like it. They announced I was homecoming king from the stage."
Murdock said he enjoyed both parts of the evening equally. But although he split time between the weekend's two big events Friday, the next night was all homecoming.
"I went to the Homecoming Dance, so I didn't go back to the blues and BBQ," he said.
If Murdock handled Friday's schedule with ease it might be because he's used to a full plate. Last Thursday, he ran his best time of the year at a cross country meet and one that was less than a second off his personal best. He has been busy with rehearsals this month as the male lead in the De Soto High School fall musical "Bye, Bye Birdie." And as a trumpet player in the school's marching band, he'll travel with the band to Baldwin City this week for a festival.
Murdock said he saw Riverfest Park being developed as he trained along 79th Street as a member of the cross country team.
"I like the new park," he said. "It's really nice. It's definitely a change to a new De Soto."
Murdock plans to attend Kansas University next fall and study to follow in his mother Lori Murdock's career footsteps as a pharmacists.
"I'll do music on the site, but my main goal in pharmacy."