Approach to budget discussions an issue in 6th District Johnson County Commission race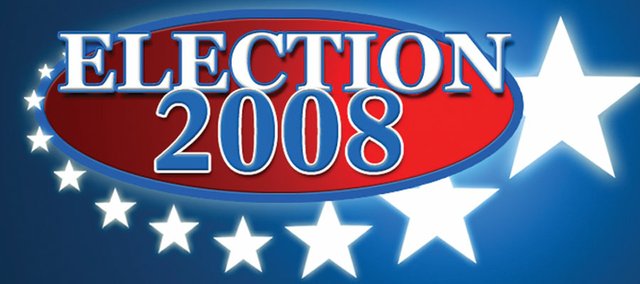 John Toplikar admits he's a loner when it comes to tax and spending issues on the Johnson County Commission.
The incumbent 6th District commission says that is a strength that reflects the thinking of his constituents in the district that includes De Soto, Gardner and Olathe.
His opponent, Calvin Hayden of rural De Soto, says it's an empty record of showboating, which accomplished nothing and could cost the district when Toplikar seeks help for programs or projects needed in the northwest county district.
Hayden is challenging incumbent Toplikar for the 6th District Johnson County Commission seat. Toplikar, Olathe, won the seat in 2002 after the commission was expanded from five members to six and added a full-time chairman. He won re-election to a four-year term in 2004.
Hayden retired in May from the Johnson County Sheriff's Office after 27 years with the department.
Among the issues Hayden is raising in the campaign are Toplikar's openness to constituency contact, his record of appointing volunteer members to various boards and his effectiveness of working with other commissioners to promote issues important to northwest Johnson County.
6th District special
Those are smoke screen issues Hayden resorted to because of his strength with the public on taxation and government spending, Toplikar said.
"Because of the growth and the school needs in De Soto, it's really important to focus on taxes," he said. "You have school bond issue here, a public safety sales tax and research triangle tax. All of those things add up."
He voted against the public safety sales tax approved in the August primary and the triangle research sales tax that will be on the November ballot, Toplikar said. In addition, he attempted to redirect $160,000 for the county's public art program to health and human services where it could be used to help fill food pantries, pay utility bills, provide for school needs and boost the county's Meals or Wheels program, he said.
Toplikar said he also offered motions to cut spending on non-essential employee conference trips, department magazine subscriptions and to eliminate the position of county lobbyist in Topeka.
'There are six commissioners and a chair," he said. "We can send emails or make phone calls. If we can't do it, we have a county manager won gets over $159,000 who can. If he can't do it, we have the deputy manager who makes over $100,000 a year that can or an assistant county manager who also makes over $100,000 who can.
'We're going to hire a communications director for $80,000 a year. And yet we need a lobbyist? I don't think so."
He has also supported cutting the salary of the Johnson County district attorney and eliminating offices for county commissioners in the County Administrative Building, Toplikar said.
"We're provided an allowance for a high speed Internet hookup, a cell phone and fax machine for a home office," he said. "Why do commissioners need two offices? That's valuable office space for county employees."
Most of the time, other commissioners refused to discuss his ideas, Toplikar said. But on two occasions he did join the majority on a split vote to roll back the mill levy, he said.
With his support for the public safety and research triangle taxes, Hayden had already shown he wouldn't have the strength to stand up against spending proposals, Toplikar said.
The problem with Toplikar's opposition is that his motions or lone votes on spending are viewed as grandstanding gestures, Hayden said. They come at the end of the budget process when there is agreement on the budget, he said.
The proper time to suggest spending cuts is during budget presentations by county department heads, Hayden said.
"I looked at the transcripts, and every time department heads make a presentation, he didn't say a word," he said. "That's the time to ask. Every department head can find something."
Toplikar's approach has alienated other county commissioners to the point they wouldn't be inclined to help him with projects needed in the 6th District, Hayden said.
"The 6th District has special needs, and we're going to need the help of the rest of the county," he said. "That's the time we're going to have to say to other commissioners, 'I know it's going to hurt you but I need some help.' That's how you work as a team."
Toplikar said he was different from his fellow commissioners and would continue to be so because what was affordable in Leawood and Mission Woods wasn't in De Soto and other communities in the 6th District.
"The 6th District is a lot different than the other districts," he said. "At least the elected representatives the other districts are sending to the commission are a lot different than I am."
Hayden is in agreement with Toplikar on the wastefulness of one spending item. Commissions don't need compensation for a home office when they have an office in the County Administration Building, especially when they are getting paid $48,000 a year for a part-time job, he said.
If elected, he would attempt to end the car allowance and home office stipends that amount to $24,000 during a four-year term, Hayden said. Regardless of the success of that effort, he would pass on the stipends, he said
"I don't think that's an expense taxpayers should have to pay for," he said. "That's money that could be better spent elsewhere. It is time for leadership to take stand."
Reappointments
As someone who served on the Northwest Johnson County Planning Commission, Hayden said it was a matter of respect to reappoint volunteers to boards and committees.
Thirty of the about 50 volunteers who serve on various boards and committees in Toplikar's district haven't been reapppointed, Hayden said. He acknowledged board members have authority until replaced, but he had an uncomfortable feeling sitting on a planning commission without a current appointment..
"I don't understand why he does that," he said. "Very few people who serve from the rest of the commissioners' districts aren't reappointed."
Toplikar said he sent out letters to appointees when their terms were up asking if they would like to remain in the positions, but rarely heard back the volunteers. His view is if they keep showing up for meetings and doing the job without the formality of a reappointment, that was good enough.
"I haven't had a single person say they haven't been reappointed," he said. "The way I look at it is if somebody is willing to serve without any pay and put in the time, I'm going to let them continue.
"I have appointed more people to boards and commissions than any other commissioner because of the geographical size of the 6th District."
He does return phone calls, emails and letters from constituents, but not prank phone calls at 3 a.m., Toplikar said. He also attends events and functions in the district like De Soto Days and issue forums and that activity is read into the minutes of every commission meeting, he said.
"I'm the only commissioner during my time who has never missed a meeting — 275 straight," he said.
Hayden said residents of the 6th District have complained that Toplikar ignored phone calls and some have said so at commission meetings. He promised that would not be a concern with him.
"It's about working for people," he said. "You may not be able to help somebody but you can point them in the direction they can get help. Once in a while you can make a difference in someone's life."
Sunflower
There are a number of issues important to the 6th District that will be before the county commission in the next four years, Hayden said. Near the top is the redevelopment of Sunflower, where initial development is scheduled to start near the end of that period.
Sunflower would be a nationally recognized development if done right, Hayden said. But he said that development should be done in a way that was beneficial to all in northwest Johnson County.
"As far as I'm concerned it should be part of De Soto," he said. "Its roots are in De Soto, and De Soto has always taken care of it."
He also has concerns about the proposed Country Arterial Road Network north-south route along a Kill Creek-Homestead Road alignment, Hayden said.
"It's a road to nowhere. It goes south to 159th Street and dead ends," he said.
It made more sense to give priority to a road through the Sunflower property, Hayden said.
Toplikar also cited Sunflower as an important issue in the next four years. He voted against the agreement transferring the property to Sunflower Redevelopment LLC because he said the county didn't follow up on the selection process as it had promised.
He said it would monitor the work of the Sunflower Redevelopment Authority named earlier this year to assure that the plant was properly cleaned of environmental contaminant, development was acceptable and county taxpayers wouldn't be asked to foot the bill for development or the cleanup.
Road and bridge upgrades would be another important issue, Toplikar said, citing an expected county commission approval this month of a near $500,000 project to pave 83rd Street from Kill Creek Road east to the De Soto city limits as part of the 2009 CARS program.
But he said the big issue would continue to be taxes and his effort to keep De Soto and the county affordable to all residents.
More like this story