Wildcats ready for postseason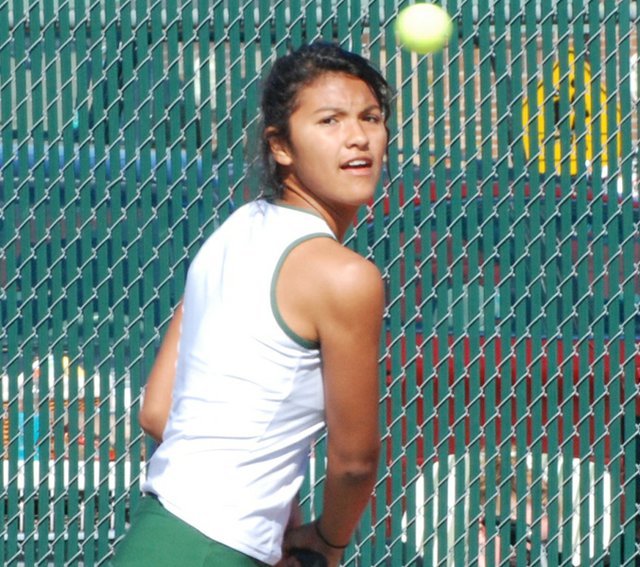 You could say that De Soto tennis coach Michael Sullivan was pleased with his team's performance last Thursday at Bonner Springs.
The Wildcats finished in third place overall, just behind Olathe East (18) and Gardner (17). De Soto also tallied 17 points but finished in third because of tiebreakers.
"The overall team effort was the best it's been all season," Sullivan said. "The whole team contributed to placing that high. Everybody got at least one win and three of our four entries medaled. It was a good team effort there."
De Soto's No. 1 doubles team of Suzie Gulley and Hana Lindbloom lost, 8-5, to the Gardner team they had beaten the week before.
"That's a good team they lost to," Sullivan said. "I don't mind them losing because I just want them getting in some good matches leading into postseason."
No. 1 singles player Kara Doherty finished in third place by beating a player from Highland Park. Pearla Jacobo, who had previously played doubles the whole season, saw action as the Wildcats No. 2 singles player. She placed fourth in singles.
In doubles action, Emily Bilger and Hanna Tramel teamed up for the first time this year and won a match. Though they didn't place at the meet, Sullivan said he liked their effort and decided to keep them paired together at regionals, which begin Thursday at De Soto.
"I think they are growing as a unit and we'll see how they do at practice this week," Sullivan said of Bilger and Tramel.
At the Gardner meet last Saturday, Gulley and Lindbloom went 4-1 and lost to that same Gardner team again. Sullivan said his No. 1 doubles team didn't play very well in the match and windy conditions made it difficult for all the participants. But despite the conditions, all of the Wildcats players got a win.
In singles play, Doherty lost to an Ottawa player and the loss could affect her seeding at regionals, Sullivan said. But Sullivan said that what he liked most from the Gardner meet was getting Bilger and Tramel some match experience together. He also said his team would be prepared for the last two weeks of the season.
"I think they're getting ready," he said. "Some of the lineups have been exactly the same, but we kind of wish we had more time with them and we've established so late with structuring, we're going to need a couple really good days of practice and fine tune things that way everyone can have a really good outing on Thursday."
Should any of the Wildcats reach the semifinals, they would play at Sub-state at Topeka-Hayden on Saturday. And should any Wildcats advance, they would play at the state meet.