Victory at last
Wildcats upset Panthers 20-14 for first win of year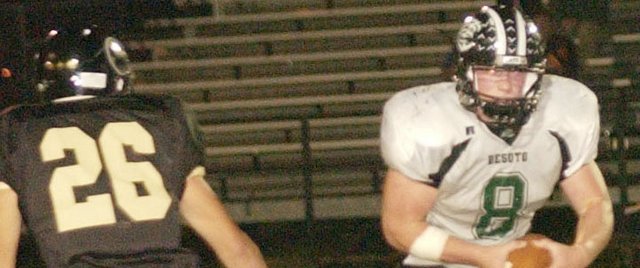 It took five weeks, but the streak is over. De Soto finally got its first win of the year Friday night at Paola.
Clinton Davis' 1-yard run late in the third quarter gave De Soto the lead it would not relinquish, and Dylan Burford's interception with 1:37 left in the fourth quarter sealed De Soto's 20-14 upset of the Paola Panthers.
Coach Brad Scott said his team would not have won the game unless it had gone through the difficulties of the first few weeks of the season.
"I told the kids I don't think we win tonight's ballgame unless we go through the trials we went through in weeks one through four because you have to figure out how to win close ballgames," Scott said.
"We played well enough to win but never got it done. But tonight when it got to that time, we battled back and kept fighting. Offensively we were like night and day compared to last week. We did some nice things and mixed it up on them."
The Wildcats (1-4) gained 317 total yards and were led by the rushing attack of Mark England who had 12 carries for 72 yards. Quarterback Logan Clark was 8-18 through the air for 135 yards and completed a 63–yard touchdown pass to Burford early in the second quarter for De Soto's first score of the game.
"He threw an outstanding ball; it was perfect," Burford said. "It couldn't have been any more perfect than that. I just caught it and ran as fast as I could."
The Wildcats fell behind late in the opening frame when Paola running back Skylar Hawkins scored on a 49-yard run with less than a minute to play in the quarter. But Burford's catch and run tied the score, and De Soto took the lead late in the second quarter off a goal line plunge by Clark. Hawkins answered that touchdown on the ensuing kickoff when he went 86-yards for a score to tie the game at 14 at the break.
In the third quarter the De Soto defense tightened and held Hawkins in check. And the Wildcats defense kept Paola from scoring on two trips into the red zone in the third quarter.
"I thought our kids did a great job tackling," Scott said. "One of our big fundamental pushes this year is last year I thought we didn't tackle well, and part of that was we had a young football team. But at the same time the kids are a year older, and a year in the weight room. They've really bought into the fundamentals we're teaching and our tackling was outstanding tonight."
Burford, England and Clark all combined to put some good hits on Paola runners, especially in the second half.
"Our defense comes out and plays to the whistle," Burford said. "We hit and hit and hit and hit some more. We just came out and wanted to hit. It's all we wanted to do."
With less than two minutes to play in the game, Paola drove into De Soto territory and had momentum and a roaring home crowd. Paola tried to capitalize by throwing a deep ball for the end zone. That pass, however, was picked off by Burford to kill the drive.
"Dylan did a nice job," Scott said. "At the free safety position he's very athletic. He had the interception to stop the drive and he made some great tackles."
After the game a joyous celebration took place at midfield, and Scott said he looked for his team to now go on a winning streak.
De Soto's next game is homecoming against Ottawa on Friday. Scott said that there would be the usual distractions but said his team would be ready to play.
"Our job is to win the homecoming game," he said. That's what the football team is supposed to go out and do and we're going to come out as focused as we can."