Squad nets 11th win on Senior Night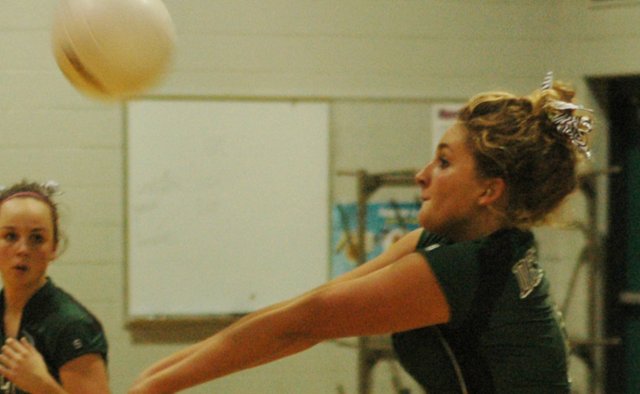 De Soto's Senior Night began with a lackluster performance against Louisburg. De Soto was swept (20-25, 16-20).
Coach Jenny Barnhart summed up her team's effort after the match.
"Flat, no intensity," she said. "That is never good. We were waiting for something to happen and we weren't making it happen."
Barnhart said having eight days between games might have contributed to the early poor showing. And early on it its second match, De Soto didn't fare much better. De Soto lost its first match against Spring Hill, 17-25, but the Wildcats came back to win the next two matches (25-15, 25-22).
"We were a totally different team," Barnhart said.
The club's intensity level rose and the players seemed to be energized by the De Soto crowd.
"They really helped us raise our level," Barnhart said.
Freshman Becca Maasen led De Soto's comeback charge with 10 kills. She also led the team in blocks. Laura Lambert recorded eight kills and had numerous digs to help the De Soto cause in the third match.
Carlie Burnett, Amber Laudick and Danielle Price played their final home matches for the Wildcats. Price said this year has been memorable.
"We've definitely improved a lot and it's really helped our team win more and have more confidence," she said. "This season has been a lot more fun."
Price said that some of her favorite memories as a Wildcat were giving players nicknames and telling jokes in the locker room. Barnhart said the three seniors were also serious on the court.
"Their leadership has been truly invaluable this year," she said. "They are very selfless seniors. They want to win and know what it takes to be a team member. They are also good role models for the younger kids."
De Soto (11-10) will next play in the De Soto Spikefest on Saturday before traveling to Spring Hill on Tuesday and the league tournament next weekend.
"I think we're going to do well until the end of the season," Price said. "We have some tough matches coming up, but we've improved so much. As long as we play with heart I think we have a good chance of getting pretty far at regionals."
More like this story