Runners win class division at Metro Invitational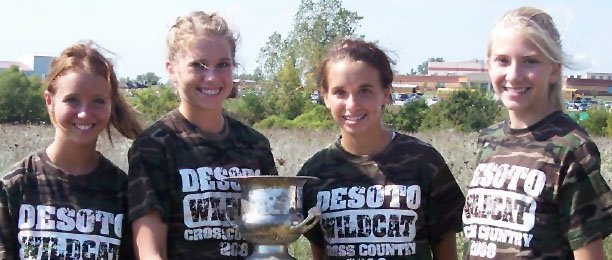 De Soto cross country coach Chris McAfee was a little disappointed at how his teams ran at Rim Rock two weeks ago, but Saturday's run at the Metro Invitational was quite a bit better.
The girls squad won its small class division and finished eighth out of 46 teams overall and the boys team finished 14th overall.
"We were back running how we are used to running," McAfee said. "And a lot of the teams that beat us pretty good at Rim Rock, we were right there with them at Metro. That was very encouraging."
Leading the way for the girls squad was sophomore Ellie Sheridan. Sheridan finished in 14th overall with a run of 19:16 in the 5K run. She also broke the De Soto girls 5K record in the process.
"As a runner, she's got an amazing amount of ability and she's really just scratching the surface," McAfee said. "She has a lot to learn. We have to teach her how to be more consistent yet."
Sheridan was injured much of last year's cross country and track seasons, and McAfee said Sheridan sometimes ran a little timid in the middle of races. That is one of the areas McAfee wants her to improve, and he also wants to keep her injury free.
"If we get her healthy, I think she's got a tremendous upside," McAfee said.
Following Sheridan for De Soto was Lacey Erickson, who finished 27th at 19:50, Carly Stanley came in 42nd at 20:15, Beth Reichenberger was 68th at 20:48 and Hannah Jokisch came in 77th at 20:53.
For the boys squad, Colin Jokisch came in 40th at 17:15 and teammate Austin Hinchey finished 77th at 17:54 in the 5K run. Ben Burgweger came in 85th at 18:04, which was a personal best.
"He's just getting so close each week," McAfee said. "He seems to get better and quicker and he's really close."
Bryan Jessip finished nine seconds behind Burgweger at 98th at 18:13, which was a personal best for Jessip. Alec Barowka came in 119th at 18:39. Ry Patton came in three spots back at 18:43.
McAfee said he thought the squads might have performed better had the course not been so crowded. The varsity races had about 200 runners on the course at the same time.
"The course itself was definitely not one of the toughest courses we've run this year," McAfee said. "It was fairly flat and had some small rolling hills in it. The biggest thing is probably because of the sheer number of people who run that course and there are a lot of narrow spots, it makes it tough. That many people on the course makes it pretty full."
Up next for the De Soto runners is a meet today at Mill Valley. It will be the first time in a few years De Soto has ran at Mill Valley.
McAfee said he wasn't sure if the girls squad would run because they are battling injuries and could use the day to rest.