Election worker no longer takes voting for granted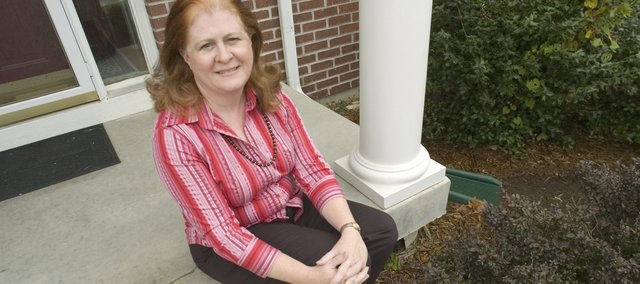 Working at a polling site on Election Day may be the best way to increase a person's appreciation of the democratic process, Anne Malin says.
"I think one thing people don't realize is how much work is done in the background to make sure everything is done properly," the Shawnee resident said.
Malin will be one of hundreds later this month and on Nov. 4 who will take the time to oversee the voting process at Johnson County's 283 polling locations. She admits she wasn't always so devoted to the electoral process; there was a time when she only voted every four years in presidential elections. But after six years of working the polls, she has a healthy respect for democracy.
"I am a much more committed voter, partially because I have seen the process and have gotten a look at what it takes," she said.
She has lived in Shawnee a little over 10 years, moving here from Georgia. She said her first time voting in Kansas, in the 2000 presidential election, also was the first time she ever used a machine to vote.
Malin started working at the polls in the August 2002 election after her parent-teacher association (PTSA) sent out information that the Election Office was in need of workers.
"I honestly didn't know what to expect; I'd only voted one other time before in Kansas," she said. "I thought it might be interesting, a good way to keep me busy."
But Malin said she found the work more rewarding than she expected.
"I found it very interesting, in terms of all the stuff they do to make sure the election comes off," she said. "I also felt a great sense of civic pride."
Now she has worked with the Election Office in various roles, including as a supervising judge for the in-person advance polling location at Metcalf South in Overland Park. Even when it isn't Election Day, Malin has worked temporary jobs for the Election Office, processing applications for advance ballots, folding and mailing mail ballots, or teaching classes on how to set up poll sites.
Malin said because she is self-employed, doing independent contract and consulting work, she has been able to make the election schedule fit with her schedule, even when it comes to two six-day weeks of operating in-person polling sites.
But she can generally be found at the Shawnee Town Hall polling location, where in the past six years, she's come to know many of her voters.
"It is interesting to see how the people come out, and how dedicated a small population is," Malin said. "We see the same people for every single election, and at the bigger elections, we see a lot of people we don't normally see."
Some of the best experiences working the polls have come from watching the high school students who take part in the county's Student Election Worker program, which allows one 16- or 17-year-old student to work at each polling location. Both of Malin's children took part in the program, she said, and she's seen how working in the elections has helped teens get more into the process.
"The kids that do this become much better voters," she said. "My older daughter is 18 and has already voted in two elections, and is signing up to get an advance ballot now that she's in college."
Malin said after the August primary, she thinks the estimates of high turnouts could prove true.
"I definitely think there is a buzz; I think we're going to see it more for the presidential election," she said. "We hope we get a lot of them in advance, so it isn't quite as hectic on the actual Election Day. We work really hard to make it as efficient as possible on Election Day, but it helps if they come prepared, if they know who they are voting for."