Bond vote won't bow to Dow worries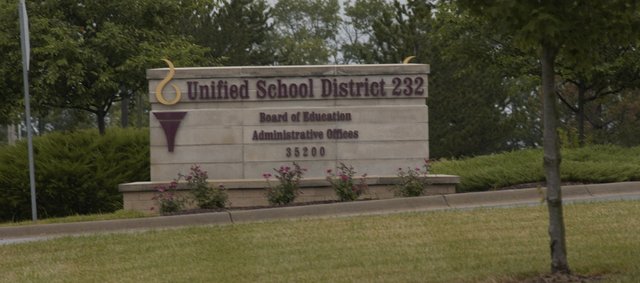 On a day the Dow Jones industrial average closed below 10,000 for the first time in four years, De Soto USD 232 Board of Education member Randy Johnson wondered if the district should pull the $75 million bond issue that will be before district voters Nov. 4.
The $75 million bond package would expand De Soto and Mill Valley high schools and build a new elementary school.
"We all know what is happening with the economy," Johnson said. "It's not good. We have a superintendent that continues to come up with bond issues."
The district would be unable to get financing for the bond at a reasonable rate should it pass, Johnson said. He called for the district to pull the bond issue and find alternatives to a building program, such as year-round school.
Board member Bill Fletcher shared Johnson's concerns. There was space available at Mill Valley for 1,250 students, yet the administration was saying the school was at capacity with an enrollment of 1,000, he said.
"This isn't a big rush," he said. "You have empty classrooms at Mill Valley."
There were empty classrooms because of block scheduling, which the board had determined was the best way to teach students, district planning and operations director Jack Deyoe said.
"You have empty classroom because of how you teach," he said. "If you want to change how you teach, you best do it because of what's best for the kids, not to squeeze more kids in there like a cattle chute."
Board member Jim Thomas said it was too late to pull the question from the ballot. The question had already been submitted to the Johnson County Election Office and ballots had been printed, he said.
Thomas and other board members said it was now time for district voters to decide the fate of the bond issue. If district residents decided the economy was too risky for a bond issue, they would vote it down, they said.
Although he agreed that voters should now decide the bond's fate, Board member Tim Blankenship did wonder if the changing economic conditions made any of the district's published information on the bond out of date.
De Soto Superintendent Sharon Zoellner said if anything the recent stock market slide would improve those numbers because the district would get more favorable rates on bond sales.
Board President Don Clark, an investment manager by profession, said contrary to Johnson's forecast, tax-exempt government bonds would be popular investment options in an unstable investment climate.
"Now is about as good a time as any to be entering the bond market," he said.
The district also could benefit from cheaper construction cost as "hungry" contractors submitted lower bids to get work, Clark said.
Clark took exception with Johnson's assertion that Zoellner brought the bond issue to the board. She was instructed to do so by the board, Clark said.
Johnson also said many district residents objected to the district spending money on pro-bond literature for the current and past bond issues.
The district sent out postcards with information about what the bond was to pay for, Clark said. There was no advocacy on the postcards, just information the board had heard, he said.
More like this story