Winning Wildcats
De Soto doubles last year's win total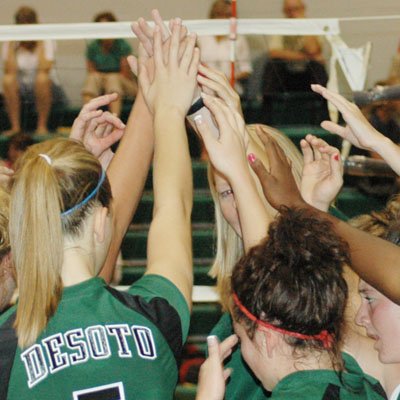 The celebration seemed fitting.
After De Soto freshman Brittany Brewer scored the wining point on a powerful right-handed kill against Sumner Academy last Thursday at De Soto, the Wildcats jumped and shouted around the court in a way they hadn't all season.
The Wildcats had just won their 10th game of the year by defeating Sumner (25-22, 25-18). With the win, De Soto has already won twice as many games as it did last year. De Soto could have had win No. 10 a game earlier but lost to Jefferson County North (18-25, 25-21, 23-25) in a game where De Soto had the lead late in two matches but couldn't close it out.
After the opening game loss, De Soto coach Jenny Barnhart had a message for her team.
"I just talked to the girls about making sure they play their own level of play because it was going to be a change in level from Jeff North to Sumner," Barnhart said.
Barnhart said that Sumner was a very scrappy opponent and De Soto had to serve well and make minimal unforced errors to win the game.
"And that's what we did," she said. "They got the lead and rolled with it."
A year ago, De Soto rarely played with a lead. Last year De Soto went just 5-29 for the season.
But Barnhart said this year's success began taking shape early last year. And she said the future could be even better for De Soto volleyball.
A YEAR OF CHANGE
Barnhart said that despite the wins, this year there were some growing pains for the team.
"Last year we started off and they were learning all about me and all about my expectations for offense and defense," Barnhart said. "Now they've got that in their foundation and from here it's building blocks.
"The foundation has been laid with our last season and now we can work on other things that have already been in place like running certain plays. And our transition from defense to offense is really key for us this year."
Helping make that quick transition has been the additions of freshman Becca Massen in the middle and sophomores Laura Lambert and Brittany Brewer on the outside.
All three youngsters have played well in their first season playing varsity for the Wildcats.
While Barnhart acknowledged the quality play from her three youngsters, she credited the team's three seniors of Tami Crow, Amber Laudick and Carlie Burnett in helping with that transition to varsity competition.
Burnett said she took it upon herself to be a leader and help the three underclassmen adjust.
"Seeing that they haven't played varsity, just bringing them in and keeping their heads up was key," Burnett said. "And then giving them the confidence to go ahead and swing has really helped give us energy and momentum to get as many wins as we've already had this year."
De Soto's (10-9) next game is Senior Night on Tuesday. De Soto is hosting a triangular against Louisburg and Spring Hill.
And for Burnett, this season has been one she won't soon forget.
"This being my senior year, it's so much more fun to come out and be doing so much better," Burnett said. "That just makes the game so much more fun than it already is."
Burnett said her personal goal was to help the team win more games than last year.
With that goal already accomplished, she now has a new goal for the team.
"It would be amazing to win league," she said.
De Soto is 1-2 in league play, and Barnhart said it was crucial for her team to perform well in league the next few weeks.
"Getting those wins in league, that's important now and when we start to get into seeding at the league tournament and after that sub-state," she said. "We're very capable of finishing at the top of the Frontier League."