DHS

No. 1 doubles team wins Wildcat Invitational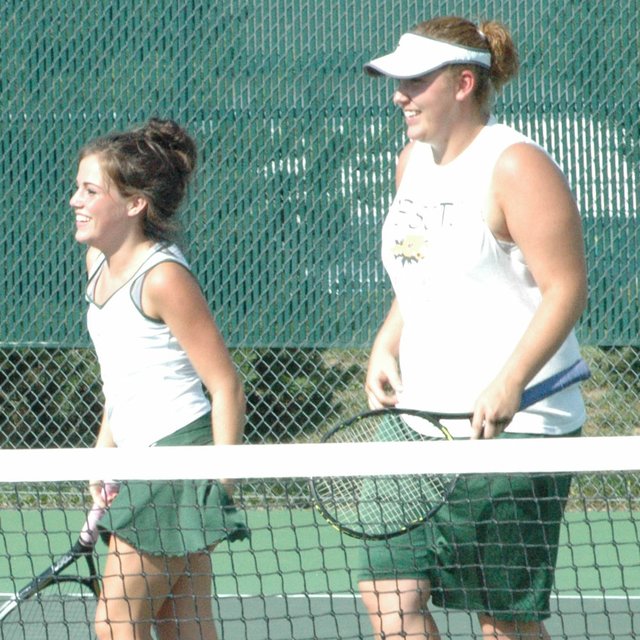 After defeating its first set of opponents on the court last Thursday at De Soto's home triangular, the Wildcats No. 1 doubles team of Hana Lindbloom and Suzie Gulley embraced in a big bear hug.
Lindbloom, however, wasn't that demonstrative.
"She (Suzie) likes to hug; I don't," Lindbloom said. "She goes 100 percent on the hug, and I go zero."
The team won both of its matches last Thursday against foes from Shawnee Mission West and Kansas City Christian. They also won the Wildcat Invitational doubles tournament last Saturday and beat a previously undefeated team from Gardner-Edgerton.
"Based on them playing that really tough competition this weekend, especially that Gardner team, they really showed me something," De Soto coach Michael Sullivan said. "But win or lose, I like the competition. I want them to play that tough competition because that's what they're going to get come the regional final, sub-state and state."
Gulley and Lindbloom both have experience at state, which is only two short weeks away. Gulley went to state as a freshman in doubles with a different partner and almost went to state last year. Coincidently, Lindbloom was partners with Suzie's sister for the past three years. They fell just short of winning state, finishing third once and second the last two years.
Lindbloom, though, said she liked their chances of getting that first place finish this year.
"The last three weeks have been good," Lindbloom said. "We've been winning. Baldwin was a big tournament and we won that pretty easily.
"We've looked at the players from last year and there aren't too many strong doubles teams coming back and so we should have a good shot."
And Gulley shared Lindbloom's confidence.
"We're not going to get second," Gulley said. "We're going to win."
De Soto's No. 1 singles player Kara Doherty struggled a bit last Thursday. She was defeated by SMW's Joan Dien (8-0) and lost to KCC's Bre Alholm, (8-1). Alholm is a two-time state medalist.
"Kara played well," Sullivan said. "She just happened to play two really tough opponents."
Doherty did not play at the Wildcat Invitational Saturday because she was out of town. Fellow singles players Emily Bilger and Emily Boerkel both lost matches to SMW and KCC last Thursday. Bilger, though, defeated Bonner Spring's Meghan Miller Saturday.
De Soto's No. 2 doubles team of Pearla Jacobo and Bre Miller lost, (8-1) to SMW but beat KCC's No. 2 doubles team, 8-1.
De Soto's next matches are Thursday at Bonner Springs and then Saturday at Gardner. And with just a few weeks remaining in the season, Sullivan said he wanted the team to continue showing improvement for the stretch run.
"I want to see the young kids as a whole keep getting experience and keep getting better," Sullivan said. "And with the older kids, to fine-tune their skills and keep the attitude up beat and keep them prepared and sharpen what they're doing already."