De Soto clinic's Barenclau retiring after three and half decades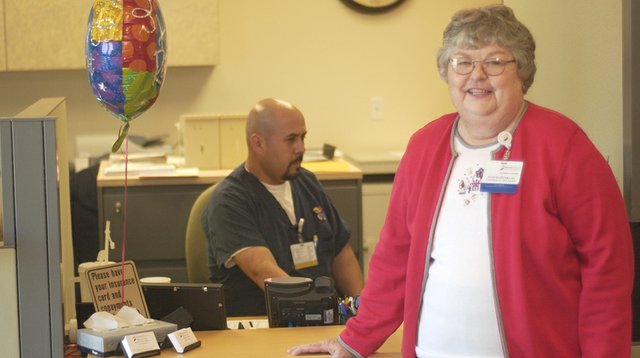 When she saw the retirement balloon Tuesday in De Soto Shawnee Mission Primary Care and Joan Barenklau, Angela Childers quickly came to the right conclusion.
"You can't retire," Childers said. "You're the one who keep this place moving."
She had been a patient at the clinic all her life, Childers said, and Barenklau was one of the people she depended on.
"You knew when you got ahold of her or Ruth (Zimmerman), you could get in to see a doctor," she said.
Despite Childers' appeal, Tuesday was indeed Barenklau's last day at the clinic after after 35 years, nine different ownership arrangements, two job titles (she went from office manager to customer service specialist with this summer's Shawnee Mission Medical Center's purchase of the clinic) and its second week in its fourth location.
It was a good time to retire, Barenklau said. The clinic is in a new office, the staff is in place, led by Dr. Maribeth Orr and physcian's assistant James Boyes. It appears as if the clinic is more secure than during much of its sometimes rocky history, she said.
"I feel like I'm leaving at a time that it's at its best," she said. "That makes me happy because I'm sure it will continue.
"I've worried a lot about it over the years with all the ups and downs. I didn't think it would last this long."
Barenklau started Sept. 19, 1973, at Cedar Valley Medical Association as a two-day-a-week secretary just seven months after the clinic opened with equipment purchased from the offices of other doctors. That workweek expanded until at the end of her first year she was full time.
She got the job on the recommendation of Dot Stephens, who was one of those who invested $25 to open a clinic in De Soto.
"She knew I worked for Mr. (Ed) King of King Radio as a secretary," she said. "She thought I'd be OK.
"I learned from the ground up."
It was a continual learning process as Barenklau and other clinic employees were forced to respond to changes insurance companies demanded.
"We used to write diagnosis out on paper," she said. "Now everything is in code. We had a peg board and ledger board. Computers changed everything."
The clinic moved from its first east 83rd Street home at what is now Yan's Chinese Restaurant up the hill to a former pool hall downtown in 1988 after Dr. Forrest P0mmerenke bought the practice, Barenklau said.
More moves and changes in ownership followed. when Dr. Carl Inzerillo purchased the clinic, then sold to stay on as doctor and finally left in 2002. All the changes caused anxious moments, but the most stressful was in 2003 when then-owner Hospital Corporation of America announced it was closing the De Soto clinic.
"That was the most stressful time for us and the community," she said. "The community got up in arms. We hated to let the patients down because we had so many older patients who couldn't travel."
The community fought to keep the clinic open as Mayor Dave Anderson, Sara Ritter, Darrel Zimmerman, Jodi Hitchcock got started a committee that prevailed on HCA to sell the clinic to Mid America Physicians Group of Shawnee.
"In the end, we were only closed a month and a half," Barenklau said. "There was a concerted community effort to bring the clinic to De Soto in the first place and then a community effort to save it."
Those efforts have tied the clinic closer to the community, Barenklau said. And it is her personal relationships with patients and staff she will miss most in retirement, she said.
"I got really close to some patients," she said. "Some kids we saw at high school age, we're now seeing their children and grandchildren."
Physician's assistant Boyes said the community so closely associated Barenklau with the clinic she was the one law enforcement officers called when the alarm went off accidentally at night at the clinic's former site on Lexington Avenue.
"Being here in town, she was the first one they'd call," he said. "She wouldn't say the heck with it, we'll check it out in the morning."
He worked with Barenklau since coming to the clinic in 1995, Boyes said. The clinic had been through a number of transitions, including the move to the new office on Commerce Drive. Through all the changes, Barenklau provided continuity, he said.
"This will be the toughest — not having her here to take care of everything," he said. "I don't think we appreciate enough what's she's done for everybody in town."
Her husband, Earl, retired four years ago, Barenklau said. She's ready to join him.
"I'm ready to do what I want when I want," she said. "If I get bored, I can always do volunteer work."