Cats fall to 0-4 with
BHS

loss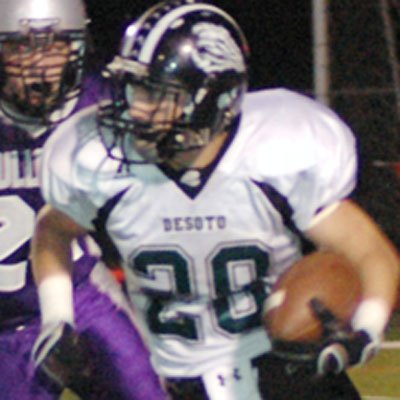 Defensive stops on its opponent's fourth down attempts and a forced turnover nearly gave De Soto's football team a chance for its first win Friday at Baldwin.
De Soto stopped Baldwin four times on fourth down attempts, forced a fumble deep in its own territory and forced a long field goal that missed. In fact, with less than seven minutes remaining in the contest, the Wildcats only trailed Baldwin 6-0.
"Defensively, we've gotten so much better from weeks one and two," coach Brad Scott said. "We're getting kids in the right place. I was more worried about this offense than anyone we've seen all year just because of how smash-mouth it is and their downhill running. Our defense definitely gave us chances to win this game."
Baldwin iced the game with a five-play, 40-yard drive late in the fourth quarter. The touchdown and two-point conversion gave the Bulldogs a 14-0 lead with 5:44 remaining. They held on to win the Frontier League contest, 14-0.
The Wildcats (0-4) remain winless on the season.
"We knew going into the season that our first five ball games on our schedule were going to be harder than any other first five we've ever had," Scott said. "All five games were against good teams.
"Baldwin was in the state semis last year and Louisburg was in the championship game. Gardner went deep in the 5A playoffs. We also knew we had a lot of kids coming back and we'll be a lot better. Our kids play hard. That's never been an issue with them. We're still building and battling, but the problem is we just haven't gotten a win."
Lack of offensive production and first downs doomed the Wildcats. They punted the ball five times and turned it over four times. Two of those werefumbles and two were on fourth down attempts.
The Wildcats only earned six first downs Friday night; four of which were in the second half.
"Tonight, our offense was just off," Scott said. "The timing was off. We had some new personnel in there.
"They had a nice scheme for us. We weren't consistent enough to keep our defense off the field and that eventually got to us."
Despite the lack of offensive production by De Soto, the game was tied 0-0 at halftime. The Bulldogs ran the second half kickoff back 90 yards for a touchdown to score the first points of the game.
"They played a great game," Scott said. "They are a good football team. They are going to lineup and smash a bunch of people in the mouth for the rest of the season. We're proud that we came in and gave them our best."
De Soto will be looking for its first win of the season at Paola Friday night. Scott is hoping his team will continue to play hard and get that first notch in the win column this season.
"We still haven't had our best team on the field yet because of injuries," Scott said. "Every time we feel like we are getting a break and getting someone back, we lose someone else. That's not an excuse, because we need people to step up."
More like this story