Tougher competition ahead for Wildcats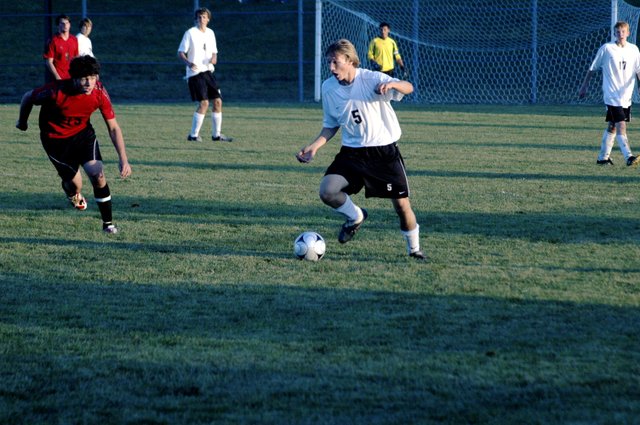 De Soto soccer coach Darren Erpelding likes winning, but not like this.
After posting a school-record 13 regular season wins and claiming De Soto's first Frontier League title, Erpelding is going out of his way to make sure that the wins don't come so easily next season.
Ironically, the fourth-year head coach wouldn't mind seeing a few more losses.
"We could only have 10 wins in the regular season next year, but we'll be a completely better team than we were this year," Erpelding said.
Erpelding's contentment with fewer wins in 2009 stems from his team's postseason flame-out in 2008. After running away with the Frontier League championship — the Wildcats outscored their league competition by a combined 47-9 — Erpelding's team hit an unlikely road block in the first round of the playoffs against St. James Academy, which entered the game with a measly 4-11 record.
But the regular season records proved irrelevant. St. James beat De Soto 1-0 in an apparent upset as the four-win team downed the 13-win team.
The wins and losses, however, don't tell the whole story. St. James played a tough regular season schedule, including 6A powers Blue Valley North and Blue Valley West, as well as five-time defending 5A champ St. Thomas Aquinas.
St. James' fourth-place finish at state — despite its pedestrian regular season record — inspired Erpelding to propose changes to the Frontier League schedule at the league's postseason coaches' meeting last month.
Traditionally, each Frontier League team played every league opponent twice. This was a problem for Erpelding because some Frontier League teams provided little resistance last season against De Soto.
"There were eight games on the schedule that I knew we were going to win," Erpelding said. "When you know that you are by far better than your opponent, it's hard for you to get excited for that game and to work on getting better."
On the heels of Erpelding's proposal, Frontier League coaches and administrators approved a big change: league teams will only play each other once in 2009. In addition, there will be a single-elimination league tournament at the beginning of the season.
With those tweaks to the schedule, each squad will have about six games against opponents of its choosing instead of just two. Erpelding plans on taking full advantage of the open dates. Perennial 4A power Kansas City Christian will be on the slate and Erpelding is looking to add Lansing, Lawrence-Free State, Lawrence High and Olathe Northwest.
Next season, Erpelding will gladly trade some lumps in the regular season for wins in the postseason. After all, he got to see up close how well it worked for St. James.