Gulley, Lindbloom lead Cats to state in 2008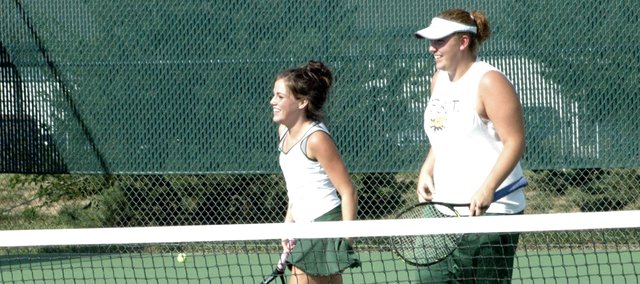 When De Soto tennis coach Michael Sullivan analyzed his team before the start of the year, he saw he had a young team that had just two seniors. He also saw a team he thought would make significant strides over the course of the year.
"It was kind of what I expected going into the season knowing that we had a lot of young kids with not a lot of experience, and they kind of grew as they went," Sullivan said.
De Soto's No. 1 doubles team of Hana Lindbloom and Suzie Gulley took fifth place at the state meet in Lawrence last month.
"Even though they finished fifth, if a couple bounces go their way, they could have easily taken first," Sullivan said. "They took the team that won the title to three sets and the team that finished second they played twice during the year to three sets. So they were right up there with the best of them in the state."
At the state meet, Lindbloom and Gulley won their first match but lost their second match to eventual state winner Colby. The team also came back from a 7-2 deficit in another match against Wellington to win 9-7.
"There were times at state when they were down and they had to really battle back in some matches," Sullivan said. "That's the time when you get really proud of your players that they come back after being down and they start getting things going. When your players can do something like that, that's when it's really rewarding."
Lindbloom, a senior, finished her career without that elusive first-place medal, but notched four top-5 finishes at state and went 136-18 overall.
"She's meant a ton to this program," Sullivan said. "You're talking about a varsity player for four years and a state medalist in the top-5 four years. She's been a huge part of the tradition we've built over here the past few years."
Fellow senior Kara Doherty advanced to quarterfinals at sub-state, and Sullivan stressed to his younger players that they could achieve similar results.
"When Hana came in, she could already play at a state level," Sullivan said. "When Doherty came in she came in as a beginner. She got better because she fell in love with the sport and worked.
"Every summer she spent hours on the court and that's why she got better," Sullivan said. "So that self-determination that she did, that's why she got better and had success. So when you see that, you want to have all your players take that dedication and want to get better and do that."
Sullivan said he was already looking forward to next year because he would have most of his team coming back.
"It's exciting to know we're going to have more people coming back," he said. "The key is to make sure those kids take that next step because a lot of them that make that jump to the varsity level and have success, they take the opportunity to use the offseason in the summer to really put some time in. And we've got some kids who could do that."
Sullivan said Gulley would likely play singles competition next year. She has experience there, having played singles her freshman year.
"She's good enough to where she can do that," Sullivan said. "She's got the experience to do that. And right now, if we turned around and played regionals tomorrow, she'd qualify for state. I have no doubt that she could finish in the top eight.
"I think she can step up to the top five. But to do that, in the summer, she's got to focus back on singles play. She could make a very deep run at state. She really could."
Pearla Jacobo, Emily Boerckel and Emily Bilger also gained valuable varsity experience this season.
"The key is for all those kids to take the summer training to the next level so they can make an even more significant impact next year," Sullivan said. "My hope is that some of the kids will get involved with that."