Cats knock down barriers
Wildcats fight back from slow start to make playoffs in '08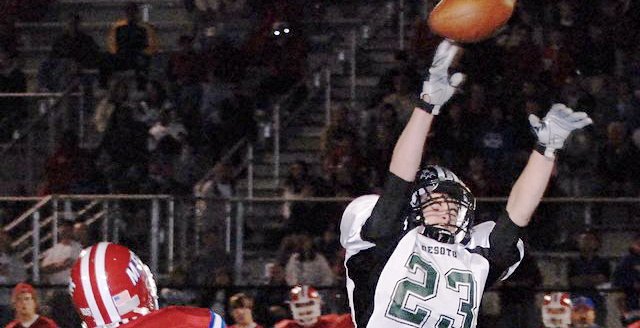 Take away the first four games and the final two games of the season, and the 2008 De Soto High football team showed what could be.
De Soto's four wins — sandwiched between four-game and two-game skids — catapulted the Wildcats to the playoffs for the first time in four years.
"I think we had a good year," De Soto coach Brad Scott said. "We made a lot of strides. We closed the gap from where we were the year before and where we were this year. We were in a lot more ball games. We got blown out by the better teams last year, and we pretty much battled every team on our schedule this season."
The Wildcats (4-6) were beaten by Gardner in the season-opener and then lost to Eudora and Louisburg on last-second field goals the following weeks. The Wildcats then lost a 14-0 battle against Baldwin to start the season at 0-4. But the Wildcats fought back and ended the losing streak with a road victory at Paola.
"That's frustrating to be close and not win," Scott said. "But at the same time that's a testament to our kids and I think it's a testament to our seniors. We never stopped believing or trusting each other.
"Then we go out and beat a team that goes to the state quarterfinals in Paola for our first win at their place on homecoming, which is probably our signature win this season and we took off from there."
The Wildcats defense improved steadily over the season, and Scott said the improvement of the offensive line — led by Lyle Logan, Daniel Davis, Austin Thompson, Mike Sprowl and Jake Radell — also keyed De Soto's success this year.
"We feel like we had the best offensive line since we've been here," Scott said. "Obviously we blocked well and created running lanes. We ran for more yards this year against teams that held us to 30 and 40 yards rushing last year and we feel like we got that corner turned."
The Wildcats played for a district championship against Bishop Miege and had a 14-0 lead. But the Wildcats just couldn't finish the game or season strong.
"For whatever reason we made some mental mistakes there and I don't think we recovered from that fourth quarter of the Miege game," Scott said. "I think the hangover from that into the Perry playoff game, we just never really got into that place where we were when we won four in a row and were making plays and getting stops on defense and not turning the ball over.
"It was disappointing to go out at the end like that because I don't think we played our best football at the end, which is what you always try to do."
Scott said the ending, however, doesn't diminish the accomplishments of the season.
"We got in the playoffs and we won two district games, which are a couple things we haven't done since 2004," Scott said. "And before 2004 we hadn't done it in forever So I think we definitely made some strides and took some steps in the right direction.
"Of course, having said that, I'm a little disappointed because I think we were better than we showed at times. If we make a play here or a play there, we're looking at a 6-2, 7-3, 8-3 season."
Scott said the Perry-Lecompton playoff game was one game where the Wildcats missed golden opportunities to take advantage of teams early. The Wildcats fumbled the ball on a drive and dropped an interception for a touchdown early against Perry.
"If at some point we're going to take the next step, we're going to have to figure out ways to make those plays and turn those games into wins," Scott said. "And until we do that, I don't think we're going to be satisfied with where we are. You take those two plays back, and that game might have been completely different. And then who knows how far we go?"
The Wildcats had weapons on offense with seniors Mark England and Jamel Townsend. England played running back and defensive back, and Townsend gave the Wildcats a deep threat at wide receiver in addition to playing defensive back and serving as the team's punter.
"He hardly comes off the field," Scott said of Townsend. "He's a great athlete. We were glad to have him move in as a junior. He's really helped our team. Not only is he a good football player, but he's a good character person and he's a good teammate and was a good captain. We really benefited from having him on our team."
De Soto also got significant contributions from quarterback Logan Clark and running back Dylan Burford. Both will be back next season. And next year, the schedule doesn't get any easier for De Soto.
"The four top teams in our league are our first four ballgames," Scott said. "We know that, we're ready for that. We've been through it for a year now and we can see how much better we have to prepare in the offseason."
Scott said that the early schedule would be a challenge, but his team would be ready in 2009.
"We've got kids who are committed to the program," Scott said. "We feel like we've got a good core group coming back. We're obviously going to miss our seniors from a talent and leadership standpoint, but we got some young talent coming up and ready to step up and be our next football team."
The De Soto football banquet is scheduled for 6 p.m. Sunday, Nov. 30 at the commons area at the high school.