Starside student 'get it' for De Soto's hungry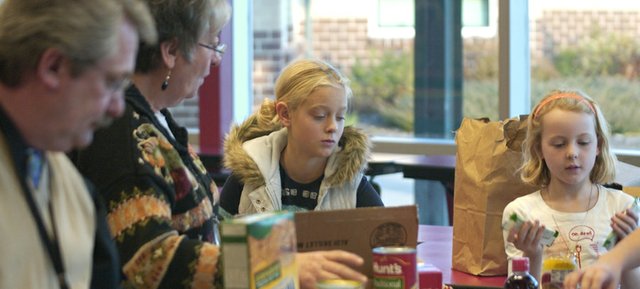 If there is one thing De Soto Multi-Service Center director Jodi Hitchcock can depend, it's that the annual Starside Elementary School pre-Thanksgiving food drive will fill her food pantry shelves for several months.
"They always help no matter what," she said "They are very good at making sure their fellow students are taken care of."
This year, the school's students came through again. Paula Henderson, Starside counselor, said the students collected 4,900 items for the center this year. Although down slightly probably because of the economy, it was still an impressive drive, she said.
The success, she said, was a credit to the school's teachers who came up with ways to keep the students motivated through interesting competitions. But at bottom, it was the teachers' appeal to the students' character that made the difference.
"We talk about responsibility," Henderson said. "We talk about why it's our responsibility to help others. We talk about how it feels to give.
"I think they get it."
The extent of how much they got was evident last Thursday as many of the school's students stayed after school to pack the food into boxes containing the same food items, which De Soto High School students took Friday to the Multi-Service Center.
Helping with the effort, fourth-graders Gabrielle Mallozzi and MacKenszie said they brought 16 and 15 items, respectively, to the school.
"When you know someone is getting the stuff you need, it makes you feel good," MacKenzie said.
Taking a breath after lifting a box full of canned goods to a tabletop, Gabrielle agreed.
"We have all these great things, but they were donated," she said. "It makes me feel so good, I could help out."
As he watch the pile of food get organized, Starside Assistant Principal Tim Smith said collecting the food and packing it were teaching opportunities.
"I think it's a great opportunity for them to learn to give," he said. "It's a great opportunity for them to work together and for use to come together as a community."
More like this story